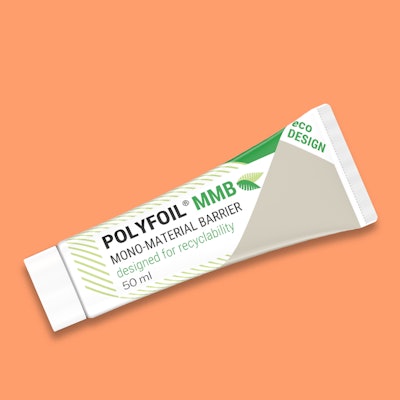 Following independent testing in accordance with the RecyClass Recyclability Evaluation Protocol, the Neopac Polyfoil® MMB 545/645 tube is approved as fully compatible with the European rigid high density polyethylene (HDPE) recycling stream.
The Polyfoil® MMB 545/645 laminated tube was tested with its white HDPE cap on and decorated by means of direct printing. Advanced barrier properties of the tube are ensured by the presence of an organic novel lacquer technology applied on the central MDO-PE film protected within the tube body structure, and based on low amount of modified PVOH composition.
According to the laboratory results, which were obtained from the tests done by the Institut für Kunststofftechnologie und -recycling (IKTR) and in accordance with the RecyClass Recyclability Evaluation Protocol for HDPE containers, the Polyfoil® MMB 545/645 product conforms to the current European colored HDPE container recycling stream provided it is used under specific conditions. The tests demonstrated that plastic generated by the recycling process can be used back in high-end, or even closed-loop applications, such as HDPE blow-molded bottles, with up to 25% of this material.
These results add to the list of the Neopac approved tubes and illustrate the effort of the plastic industry in designing high-performance HDPE barrier tubes that are compatible with their dedicated recycling stream. Moreover, the presence of a full PE tube demonstrates that a monomaterial design can be achieved, ensuring an optimal performance of the packaging regarding its recyclability.

"Testing the use of new thin film barrier materials in tubes is again a significant step forward for the tube industry as it opens the door for alternatives to EVOH so far mostly used in plastic barrier tubes," says Philippe Kern, director R&D and quality at Hoffmann Neopac. "It further increases the monomaterial criterion of barrier tubes and by this, the quality of the final recycled plastics, contributing to the achievement of closing the loop for packaging."
Companies in this article