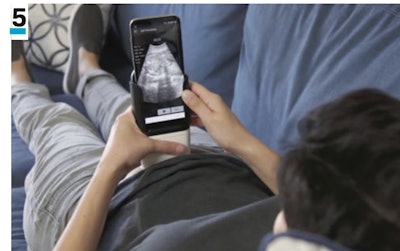 Each year, The Chicago Athenaeum presents its GOOD DESIGN® Awards Program, showcasing cutting-edge industrial, product, and graphic designs produced around the world.
The 2021 awards honored 53 total entrants in the medical category, with products running the gamut from consumer-focused medical devices to diagnostics tools and even mobile COVID-19 units. Here we profile a subset of the winners advancing design in connected devices.
The closing date for the 2022 Good Design Award applications is June 1, 2022.
Diabetes care
Sanofi Aventis Deutschland GmbH's AllStar® Connect (1) is a reusable insulin pen injector that connects by Bluetooth to a smartphone, designed by DCA Design International Ltd. With frequent adjustments to insulin dosage commonly needed, the pen is intended to help patients manage diabetes by automatically and seamlessly keeping track of insulin usage.
AllStar Connect records the details of each insulin dose delivered, and dose records are transferred to the patient's smartphone, where they can be logged and reviewed by the patient and shared with clinicians. Dose details are permanently stored in its memory, so even if the pen is out of range from the smartphone, data will automatically download the next time the pen is used with the phone. As reported in the entry, electronic features have been miniaturized so that the size and form factor are just like a regular pen, and "it needs no recharging or battery replacement and is designed to provide a troublefree life of approximately three years for an average patient."
---
---
The Sanofi/DCA duo also won an award for its TouStar® reusable insulin pen (2). Intended for delivery of Toujeo®, the pen retains the size and format of the existing AllStar pen offering familiarity to patients along with new features such as a new dedicated cartridge system developed to simplify cartridge exchange and help to prevent potentially life-threatening insulin mix-ups from occurring. With body and cap subtly color-coded to reflect the Toujeo brand, the injection force has been enhanced to deliver extremely precise doses. While AllStar already featured competitive injection force, the efficient new mechanism is beneficial for the comfort of all users, particularly those with low grip strength or limited joint mobility. The pen, which resulted from the desire to offer an affordable insulin pen in developing countries, has been designed for efficient manufacture in India.
The InsulCheck Connect (3), manufactured by Innovation Zed and designed by SHL Medical Design Team, SHL Medical, is a reusable and compact add-on device to insulin pens. It aids in diabetes management by automatically recording information about the timing of insulin injections.
The system consists of a large screen and mounting mechanism to clip the device to the pen. When properly mounted, an animation indicating successful mounting is displayed on the screen. The device features a patented mode of detection based on an optical sensor that recognizes dose-knob movement at the end of injection. Using Bluetooth technology, data from the device can be shared with connected apps.
Ultrasound technologies
VAVE ULTRASOUND UNTETHERED is a handheld ultrasound device (4) with the ability to wirelessly connect with any smartphone or tablet. Designed in collaboration with San Francisco studio Box Clever, the shape and size allow Vave to be balanced in the user's hand and be held in multiple orientations. The battery is an independent element, allowing for it to be swapped out and replaced in a matter of seconds. Materials, including the cast-metal magnesium case, were selected for efficient heat dissipation. A silicone sleeve enhances the grip and control, makes it waterproof, and allows easy disinfection of the device with hospital-grade cleaning agents.
PulseNmore ES (5) is an ultrasound device for home use, allowing women to remain on bedrest during pregnancy when needed. It connects to the user's phone, and an app automatically sends the image directly to the doctor. The disposable device is intended to be provided to the patient by the HMO and features "plug and play" design allowing the user to dock their phone and get started with guidance that accompanies them throughout use.
ECG
Design Partners won a Good Design Award for their Viscero, a wearable ECG monitoring device (6). The designers note, "A traditional holter is uncomfortable and inhibits natural movement, often making the data it collects unrepresentative of real life, so a wearable that is the same as throwing on a vest under your everyday clothes was designed and engineered."
Its sensor technology is integrated seamlessly into a simple vest resulting in a medical-grade, 6-lead ECG monitoring system that the user can forget about. The system uses dry electrodes that are positioned away from the chest to more peripheral locations and maintain consistent compression points. Viscero has compression on the arms and waist that are carefully integrated using lamination and double layer compression areas. Viscero's "brain" is the size of a matchbox and easily fits into a small pocket. The device can be recharged and can link to a healthcare professional's dashboard that uses AI to segment recordings into pre-arrhythmia and post-arrhythmia. Data can then be triaged for cardiologist review. The patient app is designed to provide peace of mind through interaction and direct connection with their healthcare consultant.
Allergen detection
Allergy Amulet worked with Loft Design to deliver this is wearable sensor designed to detect food allergens in real-time (7). "The discreet device consists of three components: the food sampler, the reader, and the app. The user simply drops a small piece of food into the sampler chamber and twists the cap closed to activate the testing procedure," explains the company. "In a few moments the food has been mixed and is ready to give a result. The user inserts the reader into a port on the sampler and the results automatically appear on the reader screen."
Users can pair the amulet—which can be worn around the neck outside as a necklace or tucked into the shirt—with a mobile app, and interchangeable sensor strips allow users to test for multiple food allergens.
Smart watch
Empatica EmbracePlus (8) is a health smartwatch with a collection of onboard sensors and algorithms aiming to give users and caregivers the ability to remotely predict and monitor conditions ranging from seizure detection to chronic stress. Designed by personnel at Whipsaw, Inc., the watch automatically measures vital physiological functions and sends them to the cloud. Originally created for epilepsy and seizure detection, the technology can be employed to monitor patients remotely, or enable clinical researchers to collect data in clinical trials.
The low-profile watch can offer a continuous view of how environment, medication, or diet affect a patient. EmbracePlus has a modular wristband with insert-molded physiological sensors and electrical components, allowing Empatica the opportunity to swap out the wristband and tailor the data collected per patient and per condition. Smart alerts and pattern tracking are available to help patients prepare for seizures. Empatica has received the first-of-its kind European CE mark for early detection of COVID-19 for its Aria system.
---
---
Syringe dispenser
The Omnicell Narcotic Syringe Dispenser (9) is designed to securely dispense prefilled syringes containing narcotics or other controlled substances in a hospital or clinic. The "dispenser box," holds 26 prefilled syringes, and is placed in a cabinet with multiple dispenser boxes. To remove a syringe, a nurse makes a software command in the cabinets' interface, and the syringe is deposited onto a drawer below for retrieval. A mechanical auger configuration is designed to avoid jams while being simple to reload.
Other notable honorees include eye tracking communication system for patients with Locked-In Syndrome, post- mastectomy breast warmers, the FEND nasal mister, rechargeable masks, and more. Check them out at hcpgo.to/GoodDesign21