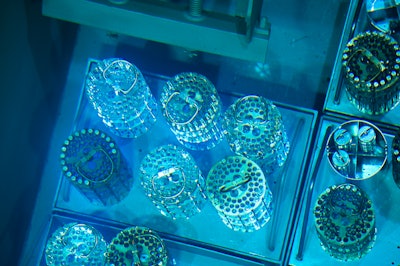 Hospital-acquired infections, a growing geriatric population, and the rising number of pharmaceutical firms and hospitals in Asia are increasing the global need for sterilization equipment.
The need is growing—so much so that MarketsAndMarkets forecasts the sterile medical packaging equipment market will experience an 8.8% CAGR, reaching $6.93 billion by 2021.
Zion Market Research's "Sterile Medical Packaging Market: Industry Perspective, Comprehensive Analysis and Forecast, 2015-2021," describes the significance of packaging and sterilization:
"Packaging is an essential and intrinsic part of the process of product manufacturing. It ensures products' safety and effortless transportation of products. Choosing the most appropriate sterilization packaging in the healthcare sector is a challenging task of the healthcare product manufacturers including pharmaceuticals as well as medical devices. Various sterilization packaging types, such as pouches, wraps, and container systems, are available in the market in different sizes and specifications for the purpose of sterilizing and packaging medical devices and other instruments. Factors such as application, performance, and selection of proper sterilization packaging systems are important for the execution of sterilization of the packaged content, maintaining sterility of the packaged contents until the package is open for use, and enabling removal of contents without contamination."
Not just medical devices
Sterigenics Intl. LLC provides contract sterilization from 43 different facilities within 13 countries, using ethylene oxide, gamma and electron beam processes, while expanding into alternative sterilization methods.
"We sterilize medical devices, pharma/biologics, as well as combination devices," explains Niki Fidopiastis, RM (NRCM), the company's Director SteriPro Consulting-Radiation. "Historically, industrial sterilization had the connotation of medical device sterilization. Time has given us more sophisticated devices and health care products, and in turn the sterilization methods have evolved to accommodate these new products." These products include medical products, combination devices, APIs, vaccines, tissue products, etc.
Matching the product and its sensitivity to any sterilization process is critical. She notes, "The way we introduce sensitive products to the sterilization modality is paramount. We need to consider the product itself, the packaging, environmental sensitivities, and cold chain management. All these factors are taken into account to assure product sterility."
Fidopiastis says the company can sterilize individual shippers or pallets in both radiation and ethylene oxide methods. Other configurations are offered, she notes, "depending on sterilization modality, the needs of the customer, and the product itself."
She points out, "The life cycle of sterile products is often complex. We find that most manufacturers sometimes are unaware of key milestones in each phase of bringing sterile product to market." The company provides services such as laboratory testing and consulting to aid in making the process of sterile product less difficult. "This is a key factor to making the sterilization process successful for customers."
When asked about developing sterilization issues, Fidopiastis explains, "The trend toward more sophisticated products such as new resorbable materials and combination products as well as drug products, and their sensitivity to traditional sterilization modalities and techniques make it imperative that the industry look to novel sterilization modalities to include in the current mix of offerings. Sterigenics currently has partnered with Noxilizer to help with sterilization of these types of products."
Noxilizer's website says the company provides room temperature nitrogen dioxide sterilization technology and sells sterilization and biodecontamination equipment to pharmaceutical, biotech and medical device manufacturers. It also offers contract sterilization services.
FDA and 'novel' sterilization methods
Some of the newer sterilization methods were described in early 2016 in the FDAs "Submission and Review of Sterility Information in Premarket Notification (510(k)) Submissions for Devices Labeled as Sterile" guidance update.
The agency noted, "In recent years, FDA has received an increasing number of 510(k)s for devices labeled as sterile that use sterilization methods other than the traditionally used methods of steam, dry heat, ethylene oxide (EO), and radiation. FDA has experience with other methods, such as hydrogen peroxide, ozone and flexible bag systems, and now considers them to be established methods. However, we recognize that there may be alterations to the more recently developed methods, as well as original, innovative sterilization technologies, which are being developed and proposed for use in the manufacture of class I and class II devices. FDA considers these to be novel methods."
FDA's updated guidance said, "Under section 513(f)(5) of the Federal Food, Drug, and Cosmetic Act (the act), FDA may not withhold 510(k) clearance for failure to comply with any provision of the act unrelated to a substantial equivalence decision, including failure to comply with Good Manufacturing Practice (GMP), unless FDA finds that there is a substantial likelihood that failure to comply with the provision 'will potentially present a serious risk to human health.' We believe that novel sterilization technologies carry a substantial risk of inadequate sterility assurance if not conducted properly. Consequently, compliance with GMP for devices sterilized using these technologies should be closely evaluated. Failure to assure sterility presents a serious risk to human health because of the risk of infection. Therefore, we intend to inspect the manufacturing facility before clearing a 510(k) for a device that is sterilized by a novel sterilization process. Inspecting the manufacturing facility for devices sterilized using these sterilization technologies will help ensure the safety and effectiveness of these devices and mitigate the risks to human health."
Companies in this article