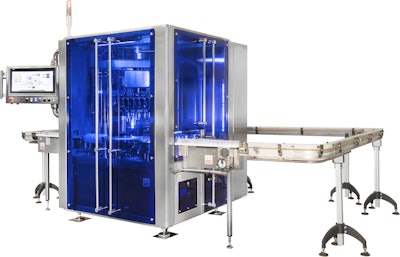 Antares Vision, provider of serialization-based pharmaceutical track-and-trace solutions, will premiere an enhancedLYO-CHECK inspection machine for lyophilized (freeze-dried) products atINTERPHEX 2018. The company will also display its enterprise-levelATS Fourserialization software ecosystem.
Complementing these will be a selection of inspection and serialization modules, including those comprising Antares Vision'sQuick Compliance Programfor expedited compliance with the Drug Supply Chain Security Act, whose enforcement will begin this November. The program guarantees a fully integrated, validated serialization system within just 10 weeks through the use of ready-to-go modules and a standardized package of software, documentation and services.
The LYO-CHECK inspection machine was developed to meet industry needs for a dedicated inspection system distinct from those applied to liquid parenteral products. Lyophilization is a process that removes water from a liquid drug to create a solid powder, or cake, which is typically stored invials, cartridges, dualchamber syringes, and prefilled mixing systems.
Lyophilization allows long-term storage (more than two years) even at room temperature, and enhanced protection from pollution. Lyophilized drugs preserve the original product features, can be stored easily, and can be rapidly reconstituted for patient use. The enhanced LYO-CHECK machine is based on vision architecture comprising a dedicated software and optical layout .
The ATS Fourserialization software ecosystem is an enterprise-level (Level 4) track-and-trace solution that manages serialization data flow connecting production plants, CMOs, third-party logistics and government agencies that introduces new concepts of data storage and exchange.
The ATS Four database technology is engineered to run at high speed, guaranteeing the same stringent data safety whether operating on Cloud space or on premises within a corporate server infrastructure.
Companies in this article