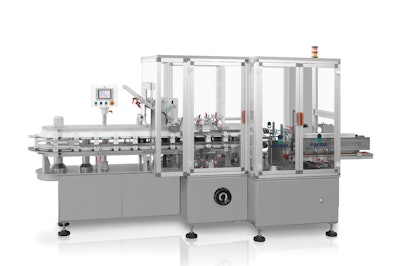 MG America, the U.S. subsidiary of MG2 of Bologna, Italy and a leading supplier of processing and packaging equipment, will showcase a variety of premium machinery at Healthcare Packaging Expo 2019, September 23-25 in Las Vegas. At MG America's Booth #N-227, featured units will showcase the company's extensive portfolio of manufacturing and packaging solutions.
High-volume Continuous-motion Capsule Filler
The PLANETA 100 Capsule Filler is a continuous motion machine for medium to high production volumes. Capable of speeds up on 100,000 capsules/hour, the PLANETA 100 can fill powders, pellets, micro-tablets, tablets, liquids, and capsule-in-capsule, among other formats. The machine's modular design features two removable dosing stations that can accommodate different dosing units.
The PLANETA 100 is available with automatic statistical in-process control system integrated into the machine or the 100% Multinet weight control system, which is capable of monitoring and controlling each component in a capsule – a useful feature for combination products.
Track & Trace-ready Side Load Case Packer
MG America offers a Track & Trace-ready version of its popular MG2 Side Load Case Packer Model GSL10. Ideally engineered to insert products of various types with regular shapes into shipping cases, the GSL 10's uses servomotors for main machine movements and a pneumatic system only for secondary movements, making it highly reliable and easy to run. No part changes are needed for different case sizes, and simple, precise adjustments can be made via handwheels. Cases can be closed with tape or hot-melt glue. A color touchscreen display controls all machine functions.
Intermittent Motion Capsule Filler Produces up to 70,000 Capsules/hr.
MG2's Alterna 70N is an intermittent motion capsule filler suitable for dosing and filling powders and pellets into hard-shell gelatin capsules. Capable of producing up to 70,000 capsules per hour, the machine features a tamping pin and can handle capsules ranging in size from 00 to 5, DB, elongated. The Alterna 70N is equipped with a touchscreen operator-machine interface for easy control of all machine functions.
Flexible Top-Load Cartoner Produces up to 80 Boxes/min.
Capable of producing up to 80 boxes per minute, the Cariba 230 Cartoner (C230) is known for its flexibility and ease of use. The compact and reliable top-load cartoner is designed for manual or automatic product feeding. Available with configurations for either two or four operators, the machine's highlights include positive carton forming; fast changeover based primarily on adjustments; tuck-in and/or hot melt closures; emboss or ink-jet coding; pre-folded leaflet insertion; and barcode reading capabilities.