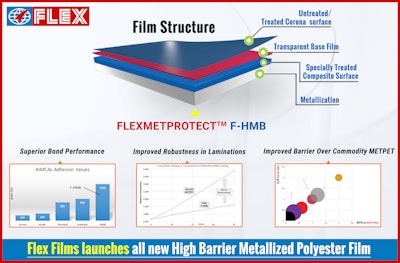 Metallized Polyester Films are increasing in popularity for imparting high-barrier properties to laminated flexible packaging structures. However, it has been often experienced that poor adhesion of metal with the base polyester film can result in laminate failure, thereby decreasing product performance.
There has been an increasing demand for cost-effective films with high metal adhesion for superior barrier applications in harsh environments.
To address this problem, Flex Films (USA) Inc. has engineered FLEXMETPROTECTTM F-HMB film, a high-barrier metallized polyester film. The film is either untreated or corona treated on the other surface, while metallization is carried out on the specially treated composite surface imparting metal adhesion or bond strength of > 1200 gram-force/in.
Flex Films is the global film manufacturing arm of India's largest multinational flexible packaging materials company Uflex Ltd. All the film manufacturing plants of Uflex, i.e. in India, UAE, Poland, Egypt, Mexico and U.S. can supply FLEXMETPROTECTTM F-HMB Film.
The adhesion of metal on BOPET base film is the sum of chemical and mechanical adhesion. This proprietary surface treatment on the base film allows increased levels of chelation or reaction with the metal being deposited, resulting in a better adhesion profile. The specialized surface treatment comprises materials with unique and enhanced properties leading to improved mechanical bonding.
The film offers high adhesion to metal under most aggressive environmental conditions; demonstrates improved scuff, scratch- and craze-resistance to improve yields up to 4% and offers robustness in processing and performance for converters. The film has OTR of 0.6 cc/m2/day at 23°C & 0% RH and MVTR of 0.6 g/m2/day at 38°C & 90% RH offering high barrier properties thereby bringing new concepts to the market; complies with EU and FDA regulations for food-grade applications.
FLEXMETPROTECTTM F-HMB film is used in liquid packaging, stand-up pouch applications, as a barrier layer in challenging applications like 'bag in box', chemical and pharmaceutical packaging and hot-fill applications up to 80°C. This film is available in thickness ranges of 8 to 50 microns
Flex Films is focusing on specialty substrates that add value for convertors and their customers by enhancing the quality and profile of the resultant packaging. The company says its future expansion strategy will be niche-product-driven and not commodity-driven.
Companies in this article