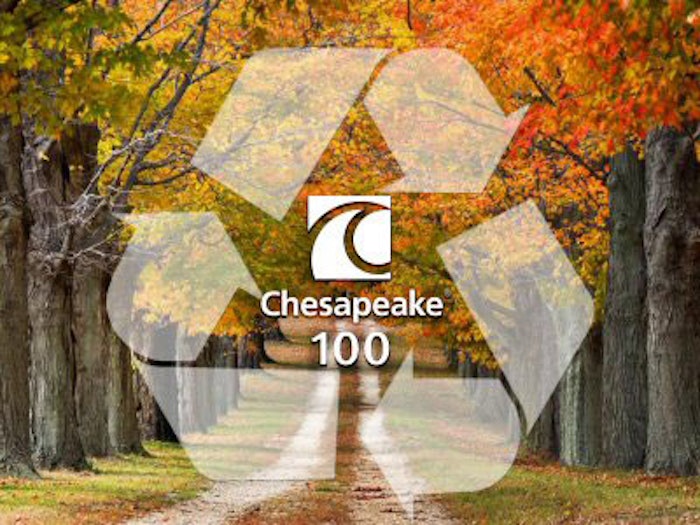 Phillip Adams, Director of CSR, said, "As a responsible global supplier of packaging solutions, we recognize that, due to our scale, making even the smallest changes can deliver impressive results. As a consequence we have launched the 'Chesapeake 100' project - a positive way to ensure our business reduces the environmental impact of its world-wide operations."
All of Chesapeake's 40 operations have been tasked with a number of new environmental related initiatives during 2011. This has generated in-excess of 100 annual sustainability projects that will help to reduce energy consumption, water and chemical usage, waste and emissions. These initiatives will also help to improve packaging design, supply chain efficiencies, vehicle fill levels and environmental management systems. At the same time, they will increase a sense of social and environmental responsibility throughout the business.
The projects that each operation will undertake are varied but a typical example is illustrated by a recent initiative to change the liner material for self-adhesive labels from a glassine backing to PET. This material is recyclable allowing the liner to be reprocessed into a range of consumer goods including disposable drinks containers, coat-hangers and fleece jackets.
Phillip Adams, went on to say, "We receive a growing number of requests from our customers to confirm Chesapeake's position in relation to our environmental objectives and targets. In response, the 'Chesapeake 100' will group together all the environmental projects across our business and allow us to respond to these requests in a coordinated and professional manner."
A data sheet outlining the background and objectives of the 'Chesapeake 100' is available in five languages (Eng / F / D / NL & PL) and a copy can be downloaded by visiting
www.chesapeakecorp.com/100
.
Companies in this article