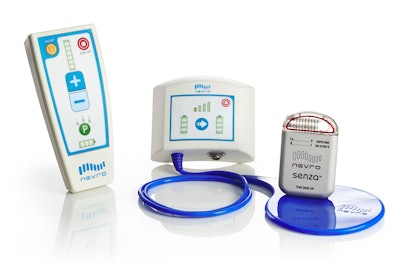 According to the Centers for Disease Control and Prevention, the number of opioids prescribed per person tripled between 1999 and 2015. A recent MIT Technology Review article noted that there's a growing class of medical devices offering a drug-free substitute for patients that may also help fight the pain of withdrawal. The addictive quality of opioids is a real deterrent to use and cautious patients are eager for alternatives.
Medical devices that fight pain are typically implanted at the base of the spine and send pulses of electric current to nerve fibers in the spinal cord. The treatment is known as neuromodulation or neurostimulation and has been around since the 1960s. The FDA approved the first spinal cord stimulator in 1989, and now med device giants like Medtronic, Boston Scientific, and St. Jude Medical control the spinal cord stimulation market.
For patients who don't want an implant, there are devices that stimulate the network of nerves that connect the brain and spinal cord known as peripheral nerves. While these pain control options are still relatively new, they're developing rapidly to provide alternative addiction-free options for those suffering from chronic pain.
Companies in this article