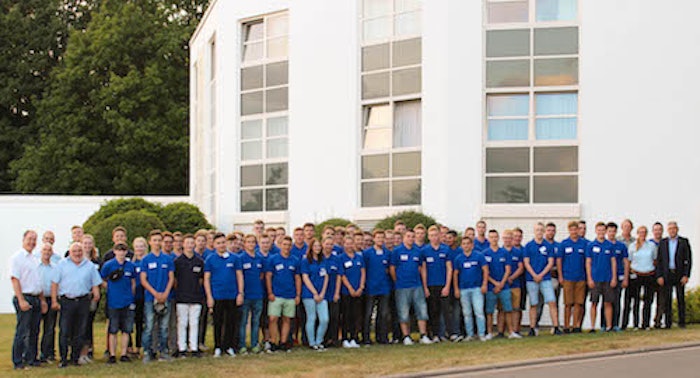 KHS GmbH is getting some reinforcements: over 50 new trainees start out in the world of work at the five production sites in Germany. To mark this new beginning the supplier of filling and packaging technology held an introductory week from August 29 to September 2 at the European Academy in Otzenhausen where the focus was on practical briefs and joint activities. In total the company employs over 190 trainees throughout Germany.
"We attach great importance to providing a diverse program of basic and further training. Especially in times where there's a lack of specialist personnel, qualified training is more important than ever," says Matthias Mohr, north training coordinator at KHS. In Dortmund, Bad Kreuznach, Hamburg, Kleve and Worms high school graduates can choose between a number of technical and clerical courses of training. This year over 50 of them will train to become mechatronics engineers, industrial mechanics and industrial clerks, among others. Some of them will complete a work/study course which combines practical work experience with academic study.
This year, too, KHS held an introductory week to initiate apprentices in the various units of the company. The program includes a visit to a major brewery which uses KHS machines, introductory courses in fire protection and occupational health and safety, group work and a planning game. The event will focus on the sense of community and getting to know each other. "Trainees at KHS can expect an exciting and thoroughly structured course of training with plenty of practical experience," says Mohr.
KHS is committed to recruiting young professionals in many different areas. Trainee scouts present various apprenticeship professions at schools and the company is a regular participant at careers fairs and events such as Training Night. KHS also exhibits at IdeenExpo in Hanover, a show which aims to encourage school students to take up scientific and technical jobs. In addition, KHS is a member of the nationwide Wir unternehmen was! ("We're doing things!") campaign run by the German Engineering Association (VDMA). Here, member companies present exemplary solutions for sustainable, future-oriented corporate management. The patron of the campaign is Sigmar Gabriel, Germany's federal minister for economic affairs and energy.
For more information, click here