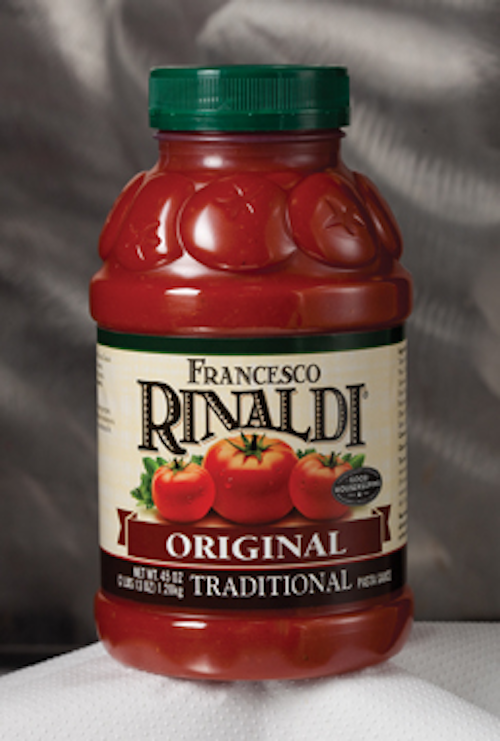 But as a contract manufacturer and packager of other companies' products, LiDestri also understands intimately the need for packaging that provides both sustainability benefits and marketing muscle at shelf.
Constar Inc. provided LiDestri with an innovative, lightweight PET jar for its Francesco Rinaldi brand pasta sauces. The package is so inventive that it has been bestowed a WorldStar Award, which the World Packaging Organization will present to Constar next May at interpack in Dusseldorf, Germany.
The jar features a panel-less design for hot-fill food and beverage products that is suitable for high-temperature processing. The container also approaches the look, rigid in-hand feel, and filling-line performance of glass.
LiDestri was the first company to commercialize Constar's Vertical Compensation Technology™ jar technology, tapping the jar for its 45-oz Francesco Rinaldi pasta sauces. LiDestri converted the brand to the new PET jar while eliminating the use of its former PET container.
The jar weighs nearly 11% less than the previous jar. The VCT technology provides rigid "ribbed" geometry, which eliminates the need for vacuum panels, while also improving stability.
"The VCT bottles are labeled and filled 25% faster than the previous container, with less downtime," says John LiDestri, president and CEO at LeDestri Foods. He adds that despite their lighter weight, the new jars are more robust and improve top load performance.
LiDestri's new jars also provide a marketing plus. A continuous circle of embossed tomatoes rings each jar's shoulder. The design becomes even more lifelike when the ruby-red tomato sauce fills the clear PET jars, heightening appetite appeal on shelf.
Companies in this article