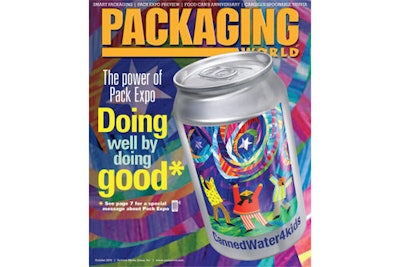 A 40-year packaging professional originally in the can business and now a national accounts sales director at ink supplier INX, Stromberg has found a remarkable way to marshal the forces of packaging for good.
Two years ago it came to Stromberg's attention that almost one-fifth of the world's population is without safe drinking water. So he decided the packaging community could play a quiet but meaningful role in addressing this crisis. The organization he launched, CannedWater4kids, operates on a shoestring budget out of Stromberg's home office. It has sold more than 200,000 cans of water via the Internet, most of them to destinations in the U.S. But the proceeds don't stay in the U.S. They go to organizations that drill wells in Africa, build water purification plants in Central America, or otherwise bring safe drinking water to those who need it.
CannedWater4kids couldn't have happened without a community of participants—a community of packaging professionals. First and foremost among them is Cold Springs Brewery of Cold Springs, MN. Perched serendipitously above an underground glacier that is a source of pure and delicious water, Cold Springs was among the many firms approached by Stromberg as he looked for a source willing and able to produce pro bono the cans of water required.
Cans were needed, too. Crown, Ball, Rexam, and Metal Container Corp. have donated nearly half a million aluminum cans to the project so far. And we're not talking bright stock here. Lovely graphics were donated by designer Peter Gorman. And INX kicks in ink for free.
The model of philanthropy being copied here, Stromberg is quick to point out, is the one behind the well known and highly regarded Newman's Own Food Company. "It just seemed like a perfect opportunity for the packaging community to come together and give something back," says Stromberg.
A special episode in the still new story of CannedWater4kids developed in the aftermath of the earthquake that hit Haiti last January. Stromberg was convinced that canned water would be nothing short of a godsend in the massive humanitarian effort that brought relief to Haiti. But how does one get canned water from Minnesota to Haiti?
Royal Carribean Cruise Lines, of course, which happens to sail from Miami to the Haitian port of Cap-Haitien. The lengthy chain of phone calls, tweets, and emails that brought this about can hardly be detailed here. Suffice it to say that without Stromberg's determination, this unlikely marriage of luxury cruising and humanitarian relief would never have come about.
But wait. There's more. Some of Stromberg's cans traveled to Haiti on a ship funded by none other than Brad Pitt and Angelina Jolie. Again, ask Stromberg how he pulled off this little miracle.
Here's the part where you come in. Go to
www.cannedwater4kids.org
and make a difference in one of three ways: buy some canned water, make a contribution, or arrange a special order of cans bearing your corporate logo. Remember, Stromberg has structured CannedWater4kids in such a way that 95 cents of every dollar spent on these cans helps build a water purification plant or drill a well in a region where water is desperately needed.
PMMI is doing its part. Attendees at its fall meeting in September were hydrated by cans of water from CannedWater4kids. The cans will also be prominent at Pack Expo International this month in Chicago. It's all about doing well by doing good. Makes you glad you belong to the packaging community, doesn't it?
By Pat Reynolds, Editor, Packaging World