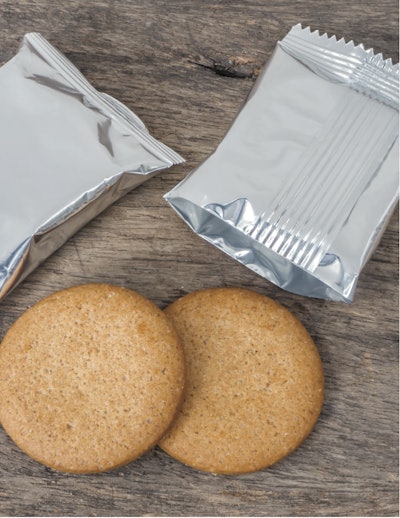 Respondents to the 2019 Flexible Packaging Market Assessment, a new report from PMMI Business Intelligence, said that although most have not used nanotechnology, 83% of respondents have heard of it, and 32% of manufacturers are interested in learning more about it and its benefits.
Nanotechnology, the study and use of structures between 1 nanometer (nm) and 100 nanometers in size, can potentially be used to increase the shelf life of foods, minimize spoilage, repair tears in packaging, and alert the consumer about the safety of product. Food packaging and monitoring are a major focus of food industry related nanotechnology research right now.
The report illustrates a team from Sultan Qaboos University (SQU), who conducted research to test the efficiency of the nanocomposite zinc oxide-chitosan antimicrobial coating to preserve okra. Test results showed that storing the okra in packaging with nanocomposite coating reduced the bacteria count by more than 60%, and fungal concentrations in okra stored in the nanocomposite coating were two times less than those in samples stored in packaging containing chitosan only. The research team also noted that the coating helped to maintain moisture and physical and chemical properties of stored okra.
While nanotechnologies remain a distant prospect to influence food packaging materials or equipment, several respondents say nanotechnology has huge potential, even though it is still some years out and is most likely being used in lab applications rather than commercially. Some respondents claim that there may be slight hesitation in introducing this to the market because it will make consumers question the quality of freshness of products.
Pouches
Another more certain flexible packaging development will be the growth of pouch use in the coming years. Standup pouch use will continue to grow, and new emerging processing technologies such as HPP (High Pressure Processing) will open new categories for flexible packaging. These growth areas will create opportunities for small to mid-sized companies to tap into the market and compete with legacy brands on the shelf.
Said one VP of Engineering at a large food company, "Pouches are really dominating. We use the pouches for both foodservice and consumer products."
Standup pouches are increasingly used for liquids
• This new premade pouch format will replace or complement product assortments that are traditionally packaged in tubes, jars, cans, and bottles. This provides an opportunity for manufacturers to utilize creative packaging of products outside of the traditional rigid packaging and bottles consumers are used to seeing.
• The pouch flips traditional premade pouches upside down, featuring a cap that provides a stable base for the package. The cap also features dosage control, so leaks are virtually eliminated.
• The pouch is able to be completely emptied, reducing product waste.
Packaging Spotlight: The standup pouch allowed a leading condiment brand to achieve a 69.7% sales increase and increase market share by 11%, while charging 25% more per ounce (compared to the same product offered in rigid packaging).
Download the free Executive Summary of this report or, PMMI Members can download the entire report here.
Source: PMMI Business Intelligence, 2019 Flexible Packaging Market Assessment.
Learn more about flexible packaging solutions and machinery at PACK EXPO Las Vegas, September 23-25.