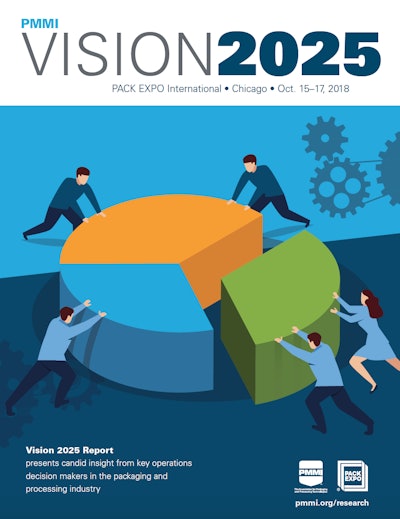 One challenge mentioned by a Vision 2025 participant was "difficulty keeping different control systems talking to each other— especially with safety data— and with affording equipment controls updates."
Others cite the challenge to film performance and cost with smaller automated lots and runs, or the struggle to implement automation best practices throughout the organization.
Yet another participant said, "Implementing predictive and autonomous maintenance is currently one of our production operations' shortcomings – we need a predictive maintenance structure with robust connectivity to our equipment."
"We are constantly challenged by the best way to manage modular, castors or flexible systems so that upon project completion, the next one can begin easily with equipment redeployed to meet the ever-changing customer demands," said one contract packager.
Another participant is "looking for ways to embed automation technology and flexibility into our machines to survive in this new manufacturing environment," while others are challenged by getting "up to speed" with built-in system diagnostics in production operations.
How are these professionals addressing these challenges? Here is what they had to say:
Embracing and utilizing more automated maintenance management systems.
Testing some predictive technologies to help make operational challenges more visible.
Work to capture the tribal knowledge in our company regarding the operation of equipment and other processes in our overall production operations.
High priority is the development of an overall obsolescence strategy throughout production operations.
Working to mitigate obsolescence challenges by creating local fabrication shops, leveraging eBay for obsolescent parts and upgrading older technologies.
Looking for a proactive design of predictive equipment, e.g., "maintenance needed soon" and other predictive capabilities – the goal is for less or redeployed labor.
Leveraging VR/AR technologies to enable technicians to experience a new plant design virtually, provide feedback and help improve the design before building.
Leveraging VR/AR technologies to conduct FATs virtually before physical, onsite inspection.
Looking to leverage new robotic technologies, especially the use of collaborative robots.
Streamlining and removing unnecessary adjustability in equipment.
Learn more about key manufacturing challenges that were discussed during Vision 2025, and download the entire 20-page report for FREE here.
Learn more about PACK EXPO Las Vegas 2019 here.