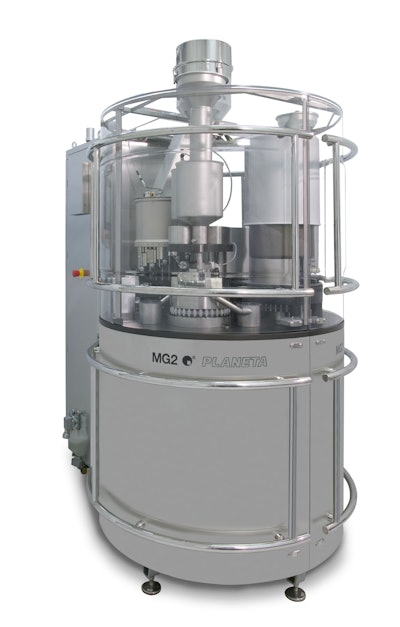 MG America, the U.S. subsidiary of MG2 of Bologna, Italy and a leading supplier of processing and packaging equipment, will showcase a variety of premium machinery at Interphex NYC 2019, April 2-4. Booth #2221. Featured units will showcase the company's extensive portfolio of manufacturing and packaging solutions.
The PLANETA 100 Capsule Filler is a continuous motion machine for medium to high production volumes, capable of speeds up to 100,000 capsules/hour. The PLANETA 100 can fill powders, pellets, micro-tablets, tablets, liquids and capsule-in-capsule, among other formats.The machine's modular design features two removable dosing stations that can accommodate different dispensing units. The PLANETA 100 is available with automatic statistical in-process control system integrated into the machine, 100% NETT weight control system or the 100% Multinet weight control system, which is capable of monitoring and controlling each component in a capsule – a useful feature for combination products.
The FlexaLAB Capsule Filler can produce up to 3,000 capsules per hour and is specifically designed for R&D laboratories, clinical trials, small batch outputs and special productions. The machine can function at continuous or intermittent motion depending on the type of dosing unit installed. Multiple dosing units may be installed and utilized simultaneously, enabling the FlexaLAB to manufacture capsules with combinations of products – an important asset for its research-focused target audience.
The FlexaLAB can fill powders, pellets, microtablets, tablets, liquids, and certain low-dosage powder inhalants.The machine also can perform capsule-into-capsule functions. Other features on the new FlexaLAB includea touch-screen panel with graphics and multi-language display; PLC for machine functions control; and motorized adjustment of machine speed from the monitor.Options such as a 100% weight inspector (for filled capsules) and a dry oil-free air compressor also are available.
The GSL 10 Side-Load Case Packer is a compact unit for carton packaging inside corrugated shippers capable of producing up to 10 cases per minute. Cases are positively/forced opened by two sets of suctions cups to guarantee perfect component handling. Changeover for the GSL 10 is particularly fast and based chiefly on adjustments, and value-added options include a print & apply labeler, case rotation at out-feed, and a checkweigher.
The GSL 10 Side-Load Case Packer is serialization and aggregation ready, and FIFO verification and code aggregation with cartons inside the shipper are both achievable.