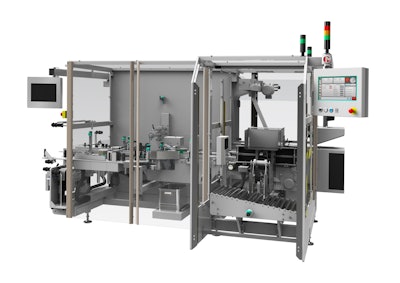 Marchesini Group USA is expecting high attendance at the booth where, for the first time, a CMP PHAR.MA machine will be on show. CMP specializes in pharmaceutical inspection systems for ampules, vials and syringes. The company was founded in 1982, and was the first in the world to launch an automatic laser inspection machine for vials. CMP has enjoyed consistent growth and now exceeds a turnover of 9 million Euro, with a 35% increase in the last two years alone.
With the addition of CMP in December, the Marchesini Group reaffirms its position as manufacturer of complete lines for producing and monitoring the pharmaceutical packaging process, from start to finish.
Alongside the CMP machine will be an RE 202 rotary labeler and the Track Pack machine for serialization.
"Interphex is an extremely valuable platform connecting leading technologies and companies in the industry. As always, visitors will find a full range of innovation and technology providing efficient and advanced solutions for the pharmaceutical industry" said Roger Toll, Executive Vice President of Marchesini Group USA.
Machines exhibited
CMP SA12J machine is an automatic inspection machine designed to perform visual inspection of prefilled syringes. This compact unit reaches a speed of up to 200 pieces per minute. It is also possible to combine it with a leak test unit to check containers' integrity.
The RE 202 rotary labeler has been developed by Neri, Marchesini's division specializing in the production of labelling machines. The RE 202 is a technically advanced and user-friendly machine. It offers customers exceptional advantages such as ergonomics and straightforward machine management. Thanks to its accessible work area and container handling control, quick size change-over and extreme accuracy in label application are achieved. The machine's design allows for the installation of Track&Trace/serialization systems.
The design of the RE 202 offers versatility in processing not only bottles made of a variety of materials (glass, plastic and metal) but also of different shapes (cylindrical, truncated cone, oval). It is ideally suited to accommodate containers with shaped profiles and unconventional shapes common to the cosmetic industry. The machine can process up to 200 containers per minute.
The Track Pack is a new all-in-one solution for serialization, tamper-evident and aggregation needs. It combines the BL A415 labeller and the PS 300 case packer. The result is a very compact machine - just 3.5 metres long and 2.3 metres wide - and very user-friendly, doing away with many manual operations.
It is incredibly versatile thanks to the possibility to mount either traditional labelling heads or tamper-evident labeling heads.

This monobloc has the BL A415 conveyor, plus a patented "timing" device that spaces the cartons correctly on the adjustable toothed slip-proof belts.
The Track Pack is able to serialize and group every kind of box and carton for both the pharmaceutical and cosmetic industries, at a production rate of 120 cartons and up to 4 cases per minute.