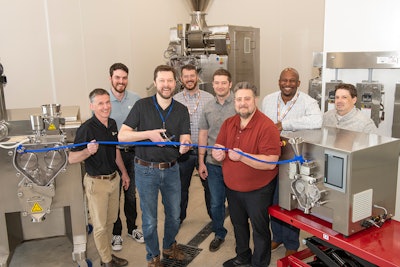 IDEX MPT business units Fitzpatrick, Quadro, and Steridose opened their new Technology Centre based in Waterloo, Ontario, Canada on May 5. This new facility, which extends to over 3,600 sq ft, is comprised of three self-contained and fully equipped test labs and an analysis area, alongside comfortable meeting rooms in which to discuss test results.
The new Technology Centre is set up as a space in which researchers, developers, and manufacturers can come and develop customized test matrices, trial batch sizes from small to large quantities using the range of equipment, which spans lab, pilot, and full-production scale models. Valuable feasibility and scale-up trials with the latest technologies will help customers in reducing integration and commissioning times.
Commenting on the launch, Wilf Sanguesa, IDEX Pharma research & technology manager said, "The team is excited to apply our collective ingenuity and internationally leading expertise to help our customers improve their manufacturing processes, speed up timelines, and provide a clear pilot-to-mass-scale manufacturing blueprint. This new lab enables us to do even more testing with customers, while at the same time having space to do our own research and development."
The test lab cells are well-resourced with equipment from Quadro, Fitzpatrick, and Steridose including:
Quadro & Fitzpatrick

– solids milling and screening with the SLS, SDx mid-scale and production-scale models, Overdriven Comils

Fitzpatrick Roller Compaction

– LCS lab-scale, CCS320 and CCS720 production-scale models

Quadro Liquids

– Y0 jet mixer, HV0/HV1 high shear homogenizers, Z1 high shear emulsifier, ZC0/ZC1 high speed powder dispersers

Steridose

– small- to mid-scale liquid batch mixing
The analysis area contains a comprehensive array of equipment that will enable complete solids and liquids particle size characterization including:
Particle size distributions through laser diffraction

Particle shapes via 1,000x binocular microscope

Powder flowing evaluations (rheometer) and bulk and tapped densities

Compacted ribbon densities from a volume and density analyzer
All test results are professionally presented in a customized report with recommendations on the equipment and setup parameters, which can be transferred to the manufacturing environment, back at site. Video conferencing and streaming are available.
The new technology centre is also home to a training academy that will offer practical and theoretical sessions on the latest technology, trends, and applications.
"The launch consolidates our commitment to provide customers with world-leading solutions and industry-changing technologies. This will enable us to work more collaboratively with customers, partners, and researchers to solve the challenges of today and prepare for the opportunities of tomorrow," said Brad Besse, IDEX VP MPT Processing Technologies

Companies in this article