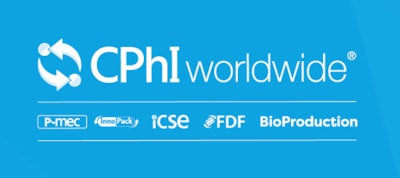 "In a year when literally hundreds of our exhibitors have contributed to overcoming COVID, the greatest healthcare challenge of recent times, we are delighted to be welcoming back the pharma community. CPhI Worldwide is an essential conduit in helping pharma supply chains work, partners meet, empowering the industry with learning. But this year, more than ever, the event will also be a celebration of everything pharma has achieved. Most exciting is that with partnerships proliferating, we expect further great strides ahead for global pharma in the year ahead." Orhan Caglayan, Brand Director for CPhI Worldwide.
Event Overview and Highlights
Taking place for the first time since October 2019, CPhI Worldwide will return in-person on 9-11 November 2021 at Fiera Milano in Milan, Italy. The global pharma exhibition will unite the industry, with six events covering all aspects of the supply chain – from ingredients and finished dosage to machinery, packaging, outsourcing and biopharmaceuticals.
CPhI Worldwide provides an industry-leading setting to network and source cost-effective solutions from all over the world in just three days, and all under one roof.
To further enhance your experience, running alongside the in-person edition will be a digital platform hosted October 25th until November 19th. This platform will empower pharma with even more resources to meet, source and discover by providing improved networking opportunities as well as the chance to pre-qualify leads ahead of the event. Additionally, the digital platform will host key insights from thought leaders spanning some 45+ sessions and content, including keynotes, webinars, podcasts and whitepapers.
Attending CPhI Worldwide
In line with Informa AllSecure guidelines, all badges will be digital and, as there will be no hosted onsite registration, attendees will be required to pre-register before arrival.
To register for CPhI Worldwide 2021, please visit: https://registration.gesevent.com/survey/2nf2znvs40wy8?actioncode=WEB6
Entry requirements for Italy
There are different rules for each country and individual circumstances for entry into Italy, and the rules and requirements are subject to change. For the most up-to-date information, please visit the Italian Ministry of Health's official website
https://www.salute.gov.it/portale/nuovocoronavirus/dettaglioContenutiNuovoCoronavirus.jsp?lingua=italiano&id=5412&area=nuovoCoronavirus&menu=vuoto
For further at event Covid related information at CPhI Worldwide please watch the AllSecure video:
https://www.youtube.com/watch?v=LCrd5x3Kpgc
Please note that the free attendee registration for the event ends on September 12th
More about the co-located events:
In addition to the pharmaceutical ingredient halls at CPhI Worldwide, attendees will have access to a number of co-located events, enhancing their on-site experience by enabling them to locate exhibitors by the specialisms, services and capabilities offered.
P-MEC provides the only European platform to focus on pharmaceutical machinery this year. It is dedicated to pharmaceutical equipment and provides access to latest testing technology, packaging equipment, cleanrooms and pharma machinery.
InnoPack brings together pharmaceutical packaging & drug delivery systems, uniting buyers and suppliers from the packaging and pharmaceutical industries. Exhibitors will highlight global packaging solutions and product developments from across the industry - particularly important in a year when vaccine delivery and new drug devices has advanced at such pace.
ICSE connects global outsourcing providers with the pharmaceutical community. Exhibiting companies span diverse outsourcing activities from clinical trials services, laboratory, logistics providers, data management, pre-clinical and clinical CROs to CDMOs and CMOs. It's one of the most prominent areas of CPhI Worldwide and especially important as global pharma companies look for increased resilience in development and manufacturing supply chains.
Finished Dosage Formulation (FDF) brings together company representatives involved in every aspect of finished dosages from big pharma and CMOs to in/out licensing and dossier specialists, end-product distributors and end-user agents. From powders and pills to capsules and creams, visitors will find every kind of finished formulation at FDF. Additionally, this year's key online live session will highlight the continued growing demand for generic medicines – driven by mounting patent losses, efforts to cut healthcare spending and the increased incidence of age and life-style related diseases.
BioProduction Congress brings together the small and large molecule worlds, covering the entire spectrum of biopharmaceutical development and production. Attendees can meet mammalian and microbial biomanufacturing companies, as well as scientists from upstream and downstream manufacturing, and experts in cell line development, analytics, digitalization and manufacturing strategy. It covers every type of bio therapy from MAbs, conjugates and biosimilars to advanced therapies (cell and gene).
Product-specific zones for easier navigation
ICSE, P-MEC, FDF, InnoPack & BioProduction are each divided into product-specific zones in order to give each industry sector more visibility and allow visitors to easily locate and source relevant products of direct interest. These zones include APIs, pharmaceuticals, custom manufacturing, excipients, fine chemicals & intermediates and natural extracts.
Digital Features
CPhI Worldwide's digital platform, hosted on swapcard, is an integral feature of the event and is designed to ensure attendees can meet, prequalify leads and get up to date with the latest industry trends and insights. Before the event, utilising this platform empowers attendees to connect with exhibitors, helping them to facilitate meetings on site – ensuring that key connections can be established. This easy-to-use system, which eliminates the need to manually search databases to find the right business connections, allows for tailored networking and maximising output from the event. The platform will also be home to industry leading insights, housing a plethora of content from live roundtables and on-demand sessions to whitepapers and podcasts.
This platform allows empowers anyone unable to attend in person with a wealth of virtual meeting and business connections options.
The CPhI Worldwide App provides both attendees and exhibitors with a timetable of each day's activities, a full list of exhibitors and their hall location.
Content Sessions
Part of Informa's strategy in delivering a safe, compliant and enjoyable event is making the experience as comfortable as possible for our attendees. This is why, for 2021, all content will be hosted digitally in the two weeks prior to the live event. A keynote speaker will begin each day by delivering the latest industry trends and insights. Some 45+ sessions including editorial webinars, learning labs and podcasts have been specially curated for pharmaceutical professionals aiming to expand their knowledge on up-and-coming therapeutic areas and business opportunities. For a full list of speakers, please visit:
https://informamarkets.turtl.co/story/cphi-worldwide-digital-content-agenda-2021/
Week 1: Top-line summary of live content sessions – Product Innovation and Technologies, Market Insights, Growth Drivers and Trends
Monday 25th October
The first day of CPhI Worldwide's digital platform, is dedicated to market insights and product innovation, with sessions on the outlook for 'European regulations', 'API Trends' and 'novel excipients'. The live keynote is entitled "API Trend Outlook 2022" and discuss the market prospects for the year ahead, as well as the driving factors and challenges in the Global API Market. Emerging product trends and market opportunities will be discussed as well as the impact of COVID-19 on the Global API Industry. The panel comprises Vinit Nigudkar, Formulation Scientist – Pharma and Health at Innophos and Dr. Iain Moore, President of EXCiPACT.
Tuesday 26th October
The second day dedicated to manufacturing equipment, approaches & technologies, with sessions on Pharma 4.0, India's pharma innovation landscape and bioavailability enhancement technology. This day's keynote is a live panel discussion – "Technology Selection for Bioavailability Enhancement" – presented by BioPhorum and Catalent, which explores advanced bioavailability tools, how to increase the speed to market and selecting the most appropriate technology for any specific molecule.
Wednesday 27th October
The third day is dedicated to biologics, bioproduction & bioprocessing with sessions on innovations from the pandemic, trends in oncology, innovation in China and a deep dive session on the M&A environment. The session, entitled "What is driving consolidation in the pharmaceutical contract services industry?" is presented by PharmaVentures and will provide an analysis of how private equity investment is changing the outsourcing services business. Looking ahead to what the pharmaceutical services industry may look like in five years' time.
Thursday 28th October
This day zeroes in on market insights and product innovation in the packaging and drug delivery space. In particular, it will examine approaches for optimising patient adherence, the challenges and solutions of paediatric drug delivery and a deep dive on environmental sustainability. This day's keynote is a live panel discussion, "Approaches for Optimizing Patient Adherence through 'Smart Packaging" and is presented by Tod Urquhart, Core Team Leader at Stevenato Group. It provides an overview of the smart packaging market, its growth drivers, as well as an assessment of the requirements for next generation smart packaging.
Friday 29th October
The final day of this content stream will focus on market insights and product innovation in finished dosage forms, generics and OTC sectors, looking at oral solid dose innovation as well as the trends shaping the future of cosmeceuticals. This day's keynote address – a live panel discussion presented by Vincent Jannin, Head of Applications Lab at Lonza Capsules and Health Ingredients, Anna Worsley, Senior Formulation Scientist at FabRx and Alex Senior, Director of Market Research at Industry Standard Research – is entitled "Oral Solid Dose Innovation", and discusses new advanced technologies such as 3D printing, while also assessing the potential for oral dose outsourcing.
Week 2: Market Insights, Growth Drivers and Trends
The second week of CPhI Worldwide's digital content agenda provides a deep dive into the industry's latest market insights, growth drivers and trends. The first day of the second content stream, Monday 1st November, covers biologics, bioproduction & biologics, with a focus on future developments and practices for mAbs and other complex molecules, the biosimilar market and cell & gene therapies. This day's keynote is a live panel discussion, "Cell & Gene Therapies" discusses the Cell & Gene space and innovations coming through the pipeline.
The second day, Tuesday 2nd November, provides a forecast on manufacturing and outsourcing, with a particular focus on challenges, trends and strategic opportunities in the CDMO landscape and continuous manufacturing. This day's keynote is a live panel discussion moderated by Kevin Olson, CEO of Industry Standard Research entitled, "Challenges, Trends and Strategic Opportunities in the CDMO Landscape" discusses market trends and services that are expected to see significant growth as well as a breakdown of regionalised manufacturing's benefits and drawbacks.
The third day, Wednesday 3rd November, provides predictions for drug discovery, formulation and R&D, with a particular focus on peptide drug discovery and the status quo of cannabinoids. This day's keynote is a live panel discussion – "Trends in Peptide Drug Discovery" – presented by Lauren Goodrich-Berto, Director, Research & Development, Nimble Therapeutics. It assesses the barriers that need to be addressed for peptides to reach their full potential as well as possible solutions. The session will also look at emerging strategies that are broadening horizons for peptide drug discovery as well as a deep dive into the therapeutic potential of peptides.
The penultimate day of the event spans predictions for manufacturing and outsourcing, with a focus on self-administration drug delivery systems and connected devices design strategy. The keynote, taking place on Thursday 4th November, is a live panel discussion entitled, "Device Design Strategy for A Connected Future" and is presented by Mayur Patel, Pharma Digital Innovation Expert - Managing Consultant, PA Consulting and Jay Mansour, Independent Consultant, EAS Consulting Group, LLC. The panel discussion will assess the next generation of drug delivery devices, potential challenges in delivery complex technologies to end users.
The final day, Friday 5th November, covers finished products and the supply chain, with a focus on off-patent opportunities for 2022, diversity and women in leadership. The keynote is a live panel discussion – entitled "Generics Outlook: Off-Patent Opportunities for 2022" – presented by David Wallace, Executive Editor, Generics Bulletin, Informa and provides an overview of the generics and biosimilars industry landscape. The session also explores potential industry headwinds, how to address them and how to pick out potential near-term opportunities for generics and biosimilars.
Additional Features
The Women in Leadership Forum, taking place for the seventh year in a row on 5th November, will provide a platform for women across the pharma supply chain to come together to connect, network and share ideas for successfully working and succeeding in the industry. This year's forum will focus on methods and routes to securing funding for female founders in pharma. Taking part in the forum will be:
· Alise Cortez, Management Consultant / Chief Purpose Officer, Alise Cortez and Associates
· Amy Peck, Founder & CEO, EndeavorVR
· Sharon Cunningham, CEO, Shorla Pharma
· Amita Goel, CEO, Celltheon
· Tia Lyles-Williams, Founder & CEO, LucasPye BIO
The Diversity Forum will discuss the importance of intersectional diversity across all levels of leadership in life sciences, to help ensure that under-served patient groups are fairly represented in all areas, from drug development to employee healthcare. Taking part in the forum will be:
· Greg DeShields, Executive Director, PHL Diversity
· Gbenga Olatunji, Director EMEA Pharma & Life sciences strategy, Strategy&
· Gervan Williams, Director, Product Development and Innovation, LucasPye BIO
· Cameron Bardliving, Director, PD & Operations, Jefferson Institute for Bioprocessing
· Lisette Martinez, MBA, Executive Vice President and Chief Diversity Officer Jefferson Health and Thomas Jefferson University
The Well-being at Work sessions, taking place from November 2nd through to November 4th, explore the importance of wellbeing in the workplace, including ownership and responsibility for individual wellbeing. The sessions will cover the impact of mental distress and the significance of balance.
The Innovation Gallery will highlight interesting and innovative products and solutions – providing an opportunity to discover novel pharmaceutical developments in packaging and drug delivery solutions. Attendees can register for a free Innovation Tour, where exhibitors give a 3-minute pitch on their innovation on the show floor.
Awarding Excellence
The 18th annual CPhI Pharma Awards recognise the innovation and dedication of companies and individuals who are driving the pharmaceutical industry forward. The awards are open to all Pharmaceutical and Biopharmaceutical companies engaged in design, development, manufacture, production and distribution of large and small molecule drug products. There are 15 categories of awards to enter for products, services and initiatives launched between 30th June 2020 and 1st August 2021.
· Excellence in Pharma: Innovation in Response to COVID-19
· Excellence in Pharma: API Development
· Excellence in Pharma: Finished Formulation
· Excellence in Pharma: Manufacturing Technology and Equipment
· Excellence in Pharma: Bioprocessing & Manufacturing
· Excellence in Pharma: Analysis, Testing, and Quality Control
· Excellence in Pharma: Packaging
· Excellence in Pharma: Drug Delivery Devices
· Excellent in Pharma: Digital Innovation
· Excellence in Pharma: Supply Chain, Logistics, and Distribution
· Excellence in Pharma: Contract Services and Outsourcing
· Excellence in Pharma: Sustainability
· Excellence in Pharma: Regulatory Procedures and Compliance
· Excellence in Pharma: CEO of the Year
· Excellence in Pharma: Pharma Service Company of the Year
The awards ceremony will be held (digitally and streamed live) on the first night of CPhI Worldwide, 9th November 2021 at Stella Polare, Fiera Milano, Milan, Italy.