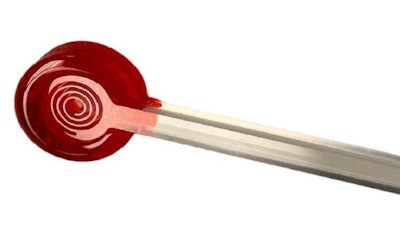 University of Washington
According to a recent New Atlas article, researchers at the University of Washington have tackled the uncomfortable and invasive process of collecting saliva for diagnostic purposes. The solution: the novel and enjoyable CandyCollect lollipop. Saliva collection is an important method of detecting various pathogens, including those responsible for strep throat, and it's less invasive than throat swabs. However, the act of manually collecting sufficient saliva can be unpleasant. With this in mind, researchers designed the CandyCollect, a special lollipop with grooves that passively collect saliva as it's consumed, with bacteria adhering to the grooves for later analysis.
The approach simplifies sample collection for conditions affecting the mouth and throat, which typically require analysis via techniques like quantitative polymerase chain reaction. In tests involving 28 adult volunteers, the lollipops were found to effectively collect saliva for the detection of bacteria like Streptococcus mutans and Staphylococcus aureus. The participants described the lollipops as a more sanitary and less disgusting alternative to conventional sampling kits. As an added bonus, the lollipops are shelf-stable for at least a year.