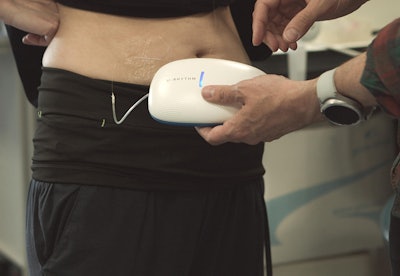 University of Birmingham
According to a recent Medgadget article, researchers at the University of Birmingham have developed a wearable device called U-RHYTHM, that monitors stress hormone levels in the body over time. Stress hormone dysregulation can contribute to a variety of diseases, including heart disease and depression. Traditionally, measuring stress hormone levels required invasive blood draws, and provided isolated snapshots of hormone levels. U-RHYTHM acts as a wearable sampling device that collects stress hormone samples from beneath the skin every 20 minutes for extended periods, providing a more comprehensive understanding of stress hormone dysfunction.
The device is worn around the waist and takes continuous samples for up to 72 hours, even during sleep and daily activities. Though it doesn't directly measure stress hormone levels, the collected samples can be analyzed later using liquid chromatography-tandem mass spectrometry. The technology has the potential to revolutionize precision diagnosis and personalized medicine interventions.