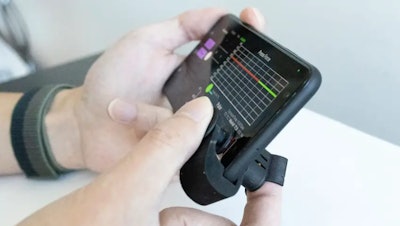 Digital Health Lab : UC San Diego
According to a recent SciTechDaily article, engineers at the University of California San Diego have developed a simple and affordable solution for blood pressure monitoring: a low-cost clip and smartphone app. The clip, which costs less than a dollar to produce, attaches to a smartphone's camera and flash, allowing users to monitor their blood pressure at their fingertip. With the guidance of a custom app, users press on the clip to measure their blood pressure, eliminating the need for traditional cuff-based devices.
The technology, already showing promising results comparable to blood pressure cuffs in early tests, has the potential to revolutionize blood pressure monitoring, particularly for individuals in resource-poor communities. The clip's cost-effectiveness and user-friendly nature make it accessible to a wider range of individuals who may not have regular access to clinical monitoring. The technology is set to be further refined and commercialized by Billion Labs Inc., founded by the project's leaders.