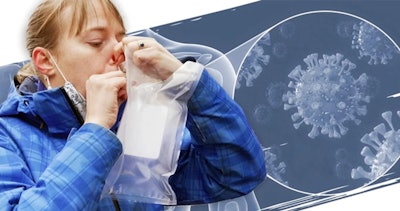 University of Colorado at Boulder
According to a recent Medgadget article, researchers have developed a laser-based breathalyzer technology called a frequency comb breathalyzer. The device uses lasers to analyze molecules in breath samples and a machine learning algorithm to detect specific diseases, such as COVID-19. By analyzing the way molecules in the sample absorb light, the system provides a yes/no answer for the presence of disease-indicating molecules.
Breath analysis offers advantages over other diagnostic methods due to its non-invasive nature. The new breathalyzer combines mid-infrared laser light and artificial intelligence to perform a spectroscopic analysis of molecules in exhaled breath. The team tested the technology during the pandemic by comparing breath samples from college students to their PCR test results. The system matched the PCR results 85% of the time, indicating promising accuracy. The researchers believe that with further training and development, the technology can become even more effective in detecting diseases based on breath analysis. A video with more information can be seen here.