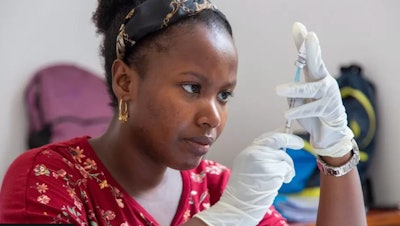 University of Oxford
Malaria is a life-threatening disease that is transmitted by mosquitoes, and has caused an estimated 409,000 deaths, most of them in Africa. According to a recent BBC article, The World Health Organization has announced it will launch the world's first malaria vaccine in pilot projects in three African countries: Ghana, Kenya, and Malawi. The R21 vaccine has been under development for more than three decades and has shown promising results in clinical trials.
The R21 vaccine is expected to prevent roughly four in 10 malaria cases in children who receive it and reduce severe cases by around 30%. The WHO pilot projects will assess feasibility of delivering the vaccine in real-world settings and will provide valuable information for future decisions about the vaccine's use. The WHO has stated that the pilot projects are a "historic milestone" in the fight against malaria and have the potential to save tens of thousands of lives each year.