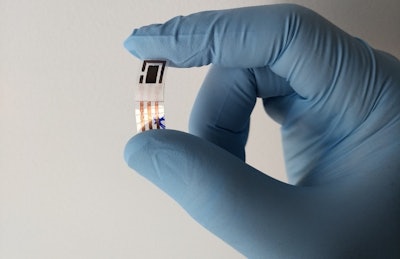 Anderson M. de Campos
Toxic heavy metals are prevalent in our surroundings, whether it's a battery, cosmetics, or even our food. As we go about our daily lives, these metals accumulate in our bodies, which can lead to serious health problems. Detecting them in body fluids is expensive, and requires a controlled laboratory setting. According to a recent EurekAlert! article, a team of researchers at the University of São Paulo created a low-cost portable sensor that can detect heavy metals in easily-collected sweat samples.
The sensor is made from simple materials including a polyethylene terephthalate (PET) base, conductive flexible copper adhesive tape, an ordinary label with a printed sensor on it, and a protective layer of nail polish or spray. The sensor is connected to a potentiostat that measures differences in potential and current between electrodes to determine the concentration of each metal. Results are then displayed via an app on either a computer or smartphone.