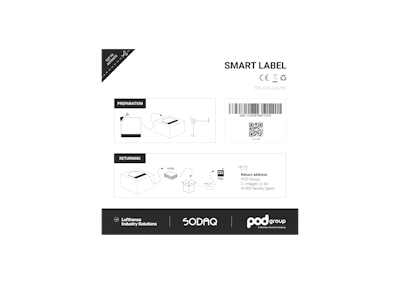 When you think of logistics and traceability, you may not think of money printing machines right off the bat. But the shipping of just such machines was one of the earliest use cases for a new paper-thin smart label. Find out how this device tracks products, from machines to pharmaceuticals and beyond.
Launched at CES in January 2023, the 2mm-thin Smart Label tracks shipments large and small with an easy cut-and-apply model. The tracking device is the result of collaboration between Pod Group, a Giesecke+Devrient (G+D) company, in partnership with SODAQ and Lufthansa Industry Solutions (LHIND).
The Smart Label uses the low-power cellular 5G connectivity standard (LTE CAT-M) to send data regarding device location and temperature back to a centralized dashboard, "enabling logistics companies to track valuable goods which could be as small and light as an envelope containing important documents or as large as a full-sized oil painting," reports Pod Group, provider of IoT SIM cards and advanced connectivity solutions for enterprise IoT applications. "The powerful middleware platform provided by LHIND enables the use of geofences with notifications that can be set to alert the user when the package enters or leaves key points along the supply chain." These alerts offer an added level of transparency, with product diversion on the minds of many logistics professionals managing complex supply chains.
The printed battery keeps the label as light as possible, while the use of low-power connectivity ensures that battery life is optimized and can last up to six months on average. The companies report that the label could be used multiple times, depending on the frequency of the transmission. "It's quite flexible in terms of how you deploy it. For example, you can have the label pinging once every two hours or once per day," says Sam Colley, CEO of Pod Group. "While the average lifespan of a Smart Label is six months, it's measured more in terms of the amount of pings because it's not always on—it's using battery when it pings. We're guaranteeing around 150 locations on each label per deployment, and we've seen it go way beyond that." He says that number will continue to increase as they work with their hardware manufacturers to optimize the technology.
Excluding the printed battery, the label materials are recyclable. At their end of life, labels are collected by the user to be sent back in sets of 10 to 50 to Pod Group, who works with SODAQ to recycle the label materials.The printed battery is non-toxic and can be disposed of as regular waste.
How it works
Beyond location, the sensors are capable of monitoring temperature, and the opening of a parcel, in what looks like a standard shipping label.
Ease of use was a prime objective. Colley says that over the last six months in particular, there's been considerable optimization to make the customer's unboxing process as seamless as possible, and also to overcome a lot of the challenges with new technology, which include flexible batteries and CAT-M cellular technology.
The user cuts the corner of the adhesive label to activate it, places it on the box/shipment manually, and, using a smartphone, scans a barcode that is then referenced in the Lufthansa platform to track their asset(s), whether they have one hundred devices or thousands. "It sounds a little too simple, almost. But it really is. It can't be complex in these scenarios, because if there's a complex registration process, how do you manage it? That's why we felt this all-in-one solution was an effective way to speak to the market."
To meet market demands, they sought to create a fully integrated and turnkey option from a labeling perspective that offers reliability, guaranteeing that where coverage is available, the label will connect. Because there are still questions around when or how companies can fully leverage the power-saving elements of that network infrastructure, partnering closely to create a broader offering for the market made sense. "With the embedded systems of G+D in terms of eSIM, and the connectivity, there's quite a lot of integration work that has to go on between hardware and that infrastructure," Colley explains.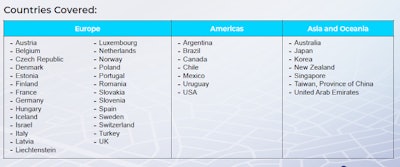 Use cases
One division of G+D builds the aforementioned money printing machines, shipping them to governments and central banks. "They wanted to make sure that these machines had arrived at the customer without any issues—that they hadn't been left outside for too long, etc. They were looking for a solution that was cost-optimized and easy to use, and that they could just affix to the side of one of these packages and send it internationally. This was when we started to work with SODAQ," says Colley.
In one of the first proof of concepts Pod Group tracked machine shipments via freight and air—one travelled halfway across Europe on the back of a truck to another port.
Based on internal examples, Colley notes that it's evolved into a much deeper partnership for an optimized label along with Lufthansa's platform to incorporate the SIM card and connectivity. "It creates a whole business model around if you can prove the providence of the package in terms of where it's been, then it can carry more value, or claims against you can be massively reduced," he adds. "Maybe your insurance premiums can come down. It's a very broad supply chain use case."
Colley says that insurance companies have expressed interest because it allows them to potentially create new business models. "Car insurance models have changed drastically with the introduction of tracking devices in cars. You have the OBD-II [onboard diagnostic] unit that you can plug into, and then deploy pay-as-you-drive models with telematics. Obviously, this isn't telematics, but insurance companies can apply this technology similarly, reducing insurance premiums, developing more bespoke offerings, and maximizing the touchpoints they have."
As Ingo Pietruska, vice president of business development at LHIND, adds, "Smart Mobile Devices will play an increasing role in the digital transformation across all industries. Because of its form factor and its unique technology, the Smart Label enables a series of new use cases."
The companies have already deployed the technology, with one example being Walbing's Track & Pay Service (see it in action here). Pre-CES, the three partners were already receiving orders and they've garnered a large number of inquiries since the official announcement in January.
Colley highlights the benefits of the pre-integrated solutions—software, hardware, and connectivity. While there's flexibility within the model if customers have preferences, the idea is that they can order a few thousand labels, take one, snip off the corner, and stick it on the case. He says, "If someone's looking to incorporate it, there are not too many things they have to worry about. It's straightforward, plug-and-play. We'll continue to better optimize what the label can do. Today its 150 pings per label, but the next generation could be far greater."