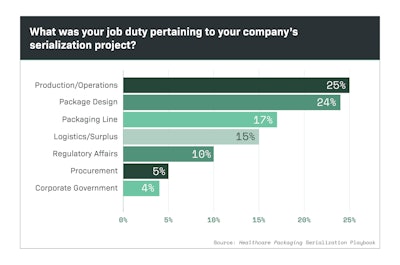 With serialization serving as a regulatory mandate, one might argue that meeting those deadlines would fall under a company's regulatory umbrella. Yet that wasn't necessarily the case, according to Healthcare Packaging's Serialization Playbook survey respondents.
Beginning in 2012 and running through 2018, the Playbook was downloaded more than 4,700 times. Each person answered a series of questions that revealed details such as where they worked, their role in serialization, as well as key metrics such as how many lines they were responsible for serializing and where they were located.
Dirk Rodgers, Founder of RxTrace.com, pointed out, "This chart illustrates the many stakeholders on the serialization team. It also serves to debunk the myth that package design is the last to hear about any change. Early on, many labels were changed and sometimes the current package could not support more information, leading to new package sizes or labeling configurations. These changes delayed the serialization project considerably, up to and including the need for new or modified machinery. But these results indicate package design was heavily involved in the process, second only to production and operations. These are all the right people who should be seeking information about the experience of others, like those contained in the Playbook."
Click here for results to the Healthcare Packaging Serialization Survey.