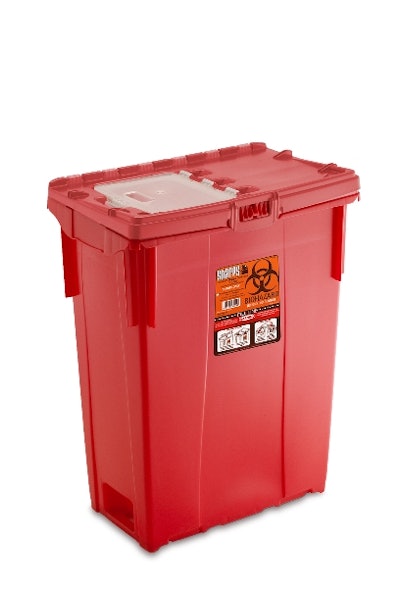 May be used in clinical and laboratory environments for the disposal of both small and large sharps. It has been FDA cleared as a Class II Medical Device and is also DOT approved, PGII rated for bio-hazardous waste collection. Unlike single-use disposable sharps containers, the 100% recyclable and reusable Sharps Tank is both economically and environmentally sustainable with a life cycle of hundreds of uses.

Works in areas with limited space and includes a wide opening, side-hinged main lid and a transparent sub-lid for more restricted access and monitoring fill capacity. Each lid has a two-position latch; one for daily use, the other a full lock position for transport. Optional accessories include a hands-free foot pedal dolly and a molded four-caster rolling dolly designed for the clinical environment.

Tank is designed for automated handling and is nestable for efficient shipping and storing when empty. The high-density polyethylene main lid and container along with the polypropylene sub-lid are made with an antimicrobial additive for additional clinical protection.
Companies in this article