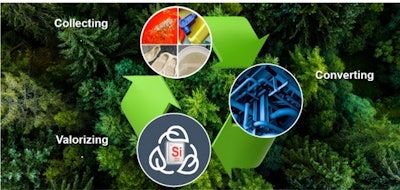 This content was written and submitted by the supplier. It has only been modified to comply with this publication's space and style.
Dow and Circusil, which develops technology to effectively recycle and recover silicon from end-of-life panels, have announced a partnership to construct a commercial-scale silicone recycling plant in Kentucky. The facility will recycle silicone waste streams from Dow's U.S. operations, as well as post-industrial waste streams from customers.
Operations are targeted to begin in fourth quarter of 2024. The strategic investment marks a milestone in Dow's silicone circularity journey and will allow the company to produce silicone polymers derived from silicone waste and end-of-life products originating from U.S. operations.
The advanced recycling process that will be used at the new facility contributes to enhanced sustainability. In addition to achieving silicone recycling by closing the loop and ultimately reintroducing the recycled silicone product into silicone production, it also aims to reduce the overall carbon footprint.

For Dow's U.S. customers, the new facility in Paris, Ky., once completed, will generate the opportunity to recycle silicone waste from their own operations, reducing their carbon footprint and Scope 1 or 3 emissions associated with waste treatment; ultimately have access to recycled based silicone polymers to address the growing demand for circular solutions; and accelerate progress toward their own sustainability objectives.
"Our partnership with Circusil LLC to establish silicone recycling capabilities in North America marks a major stride forward in our pursuit of circularity. It reflects our ambition to lead silicone recycling at scale," says Eric Peeters, vice president for Dow Performance Materials & Coatings. "As a global silicone manufacturer, we are actively delivering on our commitment to drive circularity aiming to achieve a closed-loop system on this extremely valuable material, while lowering the carbon footprint of silicones."
Companies in this article