Whether via store drop-off or shipping from home, a number of packaging material re-use or takeback schemes have been implemented for consumer packaged goods. But the landscape is changing for healthcare, too.
Ellen Struthers is a principal consultant at Anthesis Group, a global sustainability consultancy that works across a variety of areas of environmental sustainability—carbon, green design, sustainable sourcing, life cycle analyses, circularity, and more. With 1,100 experts operating in 40 countries, the certified B Corp has clients across all industry sectors ranging from start-ups to corporate multinationals such as Reckitt, Cisco, Tesco, Nestlé, and Target.
At Pharmapack Europe 2023, she discussed that takeback case studies are emerging for life sciences product waste. (If you attended the[PACK]out in 2022, you may have seen Janssen's safe returns device recovery program). Struthers discussed why a company might want to implement a takeback scheme, challenges her clients in healthcare face, and common principles for success.
Defining takeback/returns schemes
While there may not be a globally agreed upon definition for takeback programs at this point, Struthers said they are typically initiatives funded and organized by the private sector to collect and treat consumer products and packaging. She said a scheme might not necessarily be restricted to a brand's own products, as there are companies that will accept multiple brands' products if they're similar in type.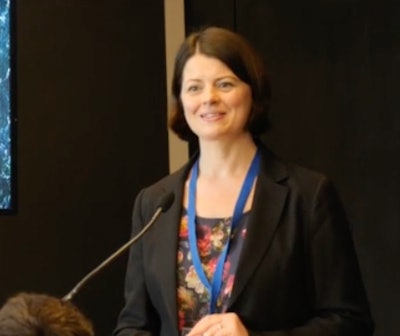 Takeback schemes are operationally complex, but generally consist of three core parts:
The user interface is commonly a postal or courier return service in which the consumer sends materials back to a processor or consolidation site. Installed drop-off points—such as collection at a pharmacy or health/beauty stores—or other types of public collection points at reuse and recycling centers or community centers may play a role. "Sometimes companies will use a combination of these different types of methods to capture back materials," she said.
Collection and consolidation typically take place if the materials aren't sent directly back to the processor. Some schemes use reverse logistics where materials are taken back on delivery vehicles and consolidated at a transport depot, while others involve a separate collection done by a specialized waste management company.
Treatment is where materials are (ideally) either reused or recycled, but in some cases, companies are collecting back materials for controlled disposal—usually incineration with energy recovery—where this still provides an overall environmental benefit.
Many factors determine the right-fit approach. "One of the critical factors is the type and amount of material that's being collected, and particularly how hazardous it's deemed to be under local regulation, as this will influence how tightly it needs to be controlled and managed at each stage of the process," said Struthers. "The available infrastructure is also a big driver: whether there is a processor within the country [to process materials], or whether it needs to be taken across borders for treatment. The amount of funding that's available to deliver the scheme from the lead organization and any partners that it's collaborating with [is a factor]. Ideally, companies will be thinking about how different options for scheme delivery compare in terms of overall environmental benefit."
Struthers highlighted the following examples in healthcare, and with planned expansions, she said more will follow. (Editor's note: Anthesis has strict confidentiality agreements for clients—these are publicly available schemes.)
Chiesi— inhaler takeback schemes with regional pilots operating in the UK and Italy
Teva—an inhaler recycling pilot in the Republic of Ireland
Novartis—inhaler recycling in Switzerland
Novo Nordisk—injection pen schemes in Denmark and the UK
Janssen—Safe Returns scheme for injection pens in Switzerland (and the Janssen SimponiOne® Safe Returns program)
Superdrug—blister pack recycling in the UK
Acuvue—contact lens recycling in the UK run through opticians
Key drivers
Any packaging engineer knows that sustainability is more than solely recycling, but there are a number of social and business drivers around cutting waste. "One of the reasons that I got interested in a career in waste in the first place is just how tangible it is, you can hold it in your hand, and you can see the visual impact that it has on the environment. The products and packaging that companies put on the market form a really powerful interface with the consumer, and particularly at the point where they become waste," Struthers said. "When you're holding your end-of-life product or packaging in your hand, whether you can dispose of that into a recycling system or you need to send it into residual waste, sends a really powerful message about the company and its commitment to the environment."
While a multi-faceted approach to sustainability is always a good idea, waste doesn't just affect the health of the environment, but it also affects human health. She explained, "It's particularly an issue for the pharmaceutical sector when we think about active pharmaceutical ingredients, and the impact that they can have on human health if they are incorrectly managed and leak into the environment."
Speaking of Europe/UK, the U.S., Canada, and Australia, she noted, "We're very lucky we have really tightly controlled and well-managed systems for collecting waste. But that's not reflected in the rest of the world. And many countries are still relying on informal collection systems with lots of waste leaking into environment and being mismanaged. So, it's a global issue of equality. In those countries, people are a lot more affected by waste issues in terms of their health and in terms of equality."
---
---
Public awareness of waste continues to increase. One of the top three environmental concerns for the public in Europe, people are making the link between their activities and the activities of the companies that they buy from, and the impact on the local and the wider environment. 68% of Europeans citizens surveyed agree their consumption habits adversely affect the environment in Europe and the rest of the world (2020 Eurobarometer). Additionally, 53% indicated in a 2021 GWI report that they reduced their plastic use in the past 12 months, and 73% and 82% of U.S. and UK consumers, respectively, choose "greener" packaging.
This leads to pressure from the public demanding companies to be more "sustainable" beyond the traditional value chain to include sourcing and material end-of-life. There is also increased scrutiny from the media—particularly copious messaging that's sent to the public when things go wrong, she said—as well as from NGOs that are active in this space and driving change. Pressure also comes from regulators, particularly led by "polluter pays" principles in the EU that have impacts around the globe.
Beyond pressures, Struthers said that Anthesis finds that companies that show strong determination to make a sustainable change reap business benefits from it:
Attracting more investment
Making higher sales in sustainable products
Attracting more talent (71% of employees and job seekers said environmentally sustainable companies are "more attractive employers")
Potentially making operational savings through efficiencies (Unilever reported 1.2 billion euro in estimated costs avoided via energy, water, and materials efficiencies from 2010-2020)
Healthcare-specific difficulties
If you're part of the life science community, you know there are difficulties with transferring concepts from operations that work readily in consumer packaged goods. Struthers noted that with pharmaceutical packaging and devices, challenges include:
Multiple materials, such as an inhaler that has five or six different types of plastic as well as metal elements and paper
At times, pressurized gases which are difficult to handle and capture
"Problematic" plastics for recycling, such as PVC
Residues of active pharmaceutical ingredients which need to be handled correctly
Risk of infection from devices such as injection pens, if they're not presented correctly by the consumer at the end of life
Non-standard shapes, which will not to travel reliably through a materials recovery facility
Core principles for success (the CliffsNotes!)
This is a highly complex topic, and with limited speaking time, Struthers "whisked" the audience through a set of five core principles for success. "But underpinning this all is an absolute requirement that whatever you do, you've got to make sure that it is legally compliant, and it's ethically operated," she said.
1. Understand the context properly. This means understanding some of the common challenges that you'll encounter such as capturing small amounts of dispersed material. As an example, an inhaler is not used by every household, it's not disposed of every day, and it's fairly small, so you're not getting the volumes that you would through a typical household collection scheme. With small volumes, evaluate the environmental payoff. These schemes involve transport, fuel, packaging, envelopes, pallet wrap, and more. She added, "We have to make sure that even with all of these resource inputs, that the scheme still provides an overall environmental benefit."
There are other considerations including if it's accessible to those in populated and rural areas, if the material needs certain storage conditions to avoid degrading and losing value before it can get to the processor. Many reprocessors work with monomaterial inputs, so complicated devices may need a pre-treatment step that comes with costs and operational complexities—manual disassembly means high labor costs, while automated disassembly requires equipment investments.
The second part of this, Struthers explained, is to properly understand the local landscape. Most countries in Europe have a requirement for pharmacies to take back end-of-life medicines. "What are the current and future regulations that influence the approach? How are they going to change in future? What impact will this have within the market? Is it going to attract more potential partners or influence the costs? What penalties can we expect? And maybe are there funding pots available from government that could help make schemes more environmentally viable," she said.
Also critical is understanding patient behavior in how they're disposing of materials currently, and what behavior changes a scheme would require to be successful. She added, "There will be lots of influences in the market that will impact how you approach your scheme. So, it's important to understand the organizations and associations that are active in the space, who's going to influence your approach and who are the potential partners."
2. Principle two is to make it accessible. This means making sure it's really easy to understand and to use and eliminating barriers. "If you're doing a postal scheme, make sure it's free post to prevent the cost being a barrier to participation. And if you are doing in-store drop off, make sure that containers are serviced frequently enough that they aren't going to overfill and preventing people from using them. Also consider how to make the system available across different geographical areas," Struthers said, highlighting a pen recycling scheme from Novo Nordisk where they're offering both a postal system as well as a drop-off return system, so people have an option in how they participate.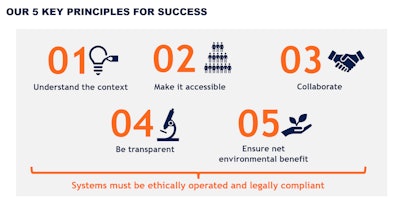 3. Collaborate to massively increase impact. "Through collaborating with retailers or other producers, you could increase the number of national drop-off points for the material, you can get more powerful messaging, for example, you can get pharmacy associations on board, and healthcare providers, so that when people are given their prescription, they're receiving consistent messages about what to do with the material end of life," she said. "So you're increasing the power of your voice. You can get access to new expertise and resources. There are lots of special interest groups that are active, particularly in Europe, looking at different types of plastic and aerosols, who you could engage with to get their specialist knowledge and resources, you can increase the operational efficiency. When you attract more material into a scheme, you will typically reduce the cost per tonne of managing it, and you can also really increase your market power. So you can get more collectors interested in taking the material and more reprocessors interested in reprocessing it, for example."
4. Principle four is to be transparent. Struthers said there are two elements to this. First, understand exactly what happens during the recycling process, requiring audits of paperwork, understanding the permits, the outcome of regulator inspection reports, for example, as well as physical inspection audits, to make sure that at each stage of the process, the material is being treated exactly as you would expect. The second part of this is communicating very transparently to consumers exactly what happens to the material. This includes telling them about any elements it's not possible to recover, when material is recycled, who is managing it, and exactly where it's managed. She highlighted an example, Boots health and beauty recycling scheme in the UK, which has a video showing exactly how the material is collected, how it's bulked up, the name of the sorter, how it's sorted, and they show the end use of the material.
5. The final principle is to ensure that whatever you do, it has an overall environmental benefit. "To be blunt, if it doesn't have an environmental benefit, then don't do it. So this means before you start, undertake some very robust modeling to understand how different scheme options for delivery might perform, and you should look at that against different environmental indicators," she said. You also need to account for real life variables that impact benefit: low vs. high participation, risks and conflicts with other collection schemes. "Consider how you'll make sure that residents don't get mixed messages, for example, about putting materials into household collection bins. An example I liked from Chiesi… their team in the UK has developed a toolkit for NHS professionals, which shows how inhalers can be recycled, and they really [affirm] the importance of considering the carbon impact."
Why implement a takeback scheme?
At this point, you may be wondering if the complexity is worth it. Struthers said a key benefit she sees from clients is brand trust, and to show that commitment to the environment. "It helps you to deliver against your ESG commitments, and to provide physical evidence that you are taking sustainability seriously. Compliance is really important… but we've also worked with clients who want to move ahead of regulation and show regulators that the private sector is taking action, so there isn't necessarily a need for [a regulation] to tighten," she said. Some companies find value in divert materials into reuse or recycling instead of having them incinerated, or in recovering precious metals from electrical waste, while others want to provide evidence that their products and packaging are, in fact, recyclable in practice.
Stay tuned for a free guide to implementing takeback schemes from Anthesis Group. Register to receive the guide at: www.anthesisgroup.com/a-practical-guide-to-implementing-take-back-schemes/
Companies in this article