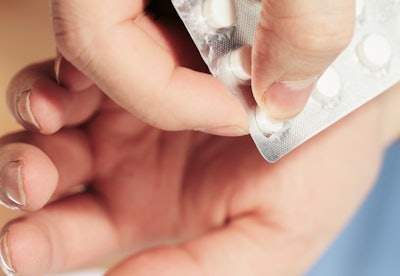 As pharmaceutical brand owners look to upgrade packaging to newer, more sustainable options—including lightweight, renewable, and recycle-ready offerings—many are facing questions about whether new materials can run on existing packaging machines.
With so many tried-and-true materials used in life sciences packaging, machines are typically built to work with established offerings that have been on the market for years. This is certainly the case for the popular blister package, an ironclad packaging system for tablets, capsules, and other oral solid dose (OSD) medicines and nutraceuticals. Blisters outperform bottles in protecting drugs against moisture, which is crucial for moisture-sensitive products, while also offering patient adherence benefits and child resistance.
In terms of sustainability, blister packaging has lagged over the past decade, but strides have been made in the R&D-intensive journey of developing high-performance blisters compatible with existing recycling streams.
A few companies have brought blisters to market that have recyclability claims—and even then, successfully balancing eco-friendliness with adequate barrier protection remains a challenge. From there, a final hurdle remains: the ability to actually produce the packaging in large capacities and at high speeds, also known as machinability. Simply put, a solution that can't be reliably and rapidly reproduced at-scale isn't really a solution.
With this in mind, Amcor embarked on a journey with Maruho Hatsujyo Innovations, Inc. (MHI) to ensure its novel recycle-ready blister package could be processed on a commercial-scale packaging line.
Recycle-ready blister
Amcor is a developer and producer of packaging solutions for a variety of sectors, including pharmaceuticals and nutraceuticals. The company supplies a range of flexible and rigid packaging solutions, cartons, and closures.
Among Amcor's offerings is blister packaging, and in April of 2021, the company introduced is recyclable AmSky™ Blister System. AmSky is a blister and lidding combination comprised entirely of high-density polyethylene (HDPE). By contrast, conventional systems typically involve a polyvinyl chloride (PVC) blister and an aluminum lid.
"The PVC/aluminum combination exemplifies blister packaging's sustainability challenges, because, together, they are proven to protect drugs but suffer an exceedingly poor sustainability reputation," says Michelle West, pharma product manager for Amcor Flexibles North America. "On the other hand, HDPE is a commonly recycled plastic in many existing streams; in the U.S., for example, HDPE can be placed in the '#2' curbside plastic stream, which includes common items such as milk jugs and laundry detergent bottles. HDPE films also fit the PE film stream, currently a 'store drop-off' option in which consumers take relevant items to store drop-off locations, often at grocery stores, where they are collected and transported to recycling centers for processing."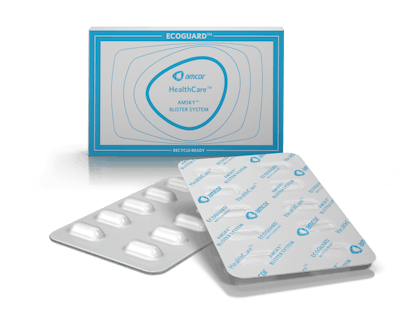 A key aspect to AmSky's sustainability success is that the blister and lidding are both HDPE. If the blister and lid are in different streams (or if one is detrimental to recycling), the entire product ends up in the landfill rather than the recycling center. Based on company estimates, AmSky can offer a carbon footprint reduction exceeding 50% versus traditional PVC/foil blisters even when it's not recycled. When it is recycled, that figure approaches 70%.
Of course, sustainability must not sacrifice barrier protection. An ever-increasing share of today's oral solid dose (OSD) drugs require at least some degree of protection against moisture. Amcor has reported two claims: (1) that the base AmSky blister package has more moisture barrier than a standard PVC-aluminum system, and (2) that it delivers package moisture barrier similar to PVC/PVdC + foil lid combinations and PVC/Aclar® + foil lid constructions frequently utilized for moisture-sensitive products.
While the initial AmSky featured a white base with clear lidding, some applications require through-the-blister visual inspection. Amcor also has a clear blister with white lidding, or can make both either white or clear—all with preprinting options. It also can be upgraded to a thicker push-through lidding for increased child resistance.
At press time, AmSky is the only entirely HDPE-based blister package listed on the Association of Plastic Recyclers' website as meeting Critical Guidance Recognition, and is the only blister packaging system for healthcare listed on Walmart's Circular Connector website, which is intended to broaden recognition of preferred sustainable packaging materials. While AmSky could meet pharma and nutraceutical industry needs for safety and end product stability, the difference between a successful prototype and a successful product meant testing whether AmSky could be processed on a commercial scale packaging line.
Testing for machinability
For trials, Amcor turned to blister machinery supplier MHI, the U.S. subsidiary of Maruho Corp. Ltd., which distributes medical packaging equipment whose designs lean upon more than 60 years of manufacturing experience.
Modern blister machines like the ones offered by MHI are designed to produce blisters rapidly and reliably for pharma companies requiring protection for millions upon millions of pills. The most dependable, thermoformable film material has historically been PVC.
An obstacle to wide adoption of recyclable blister packages is the ability of newer, more sustainable materials to be "machinable"—that is, to be produced on a large scale with a precise level of sealing repetition.
Other materials are comparably fickle, and AmSky was no exception, reports Amcor. The HDPE construct requires different operating parameters, and has a narrower operating window on machines accustomed to running standard PVC + foil packaging. So, when Amcor approached MHI, both parties knew that finding the optimal production parameters would require some trials and line time.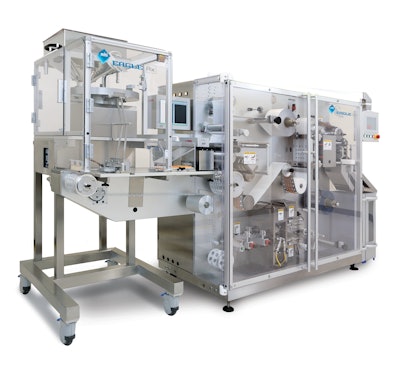 "The goal was achieving a one-to-one ratio, meaning a scenario where the AmSky system could be produced with the same sealing and speed efficiencies as PVC blisters," says Hideo Yonenaga, president, Medical Packaging Machinery Division for Maruho Hatsujyo Innovations, Inc. "In reality, Amcor and MHI knew that even approaching production parity would be a win. Close counts in horseshoes, hand grenades, and sustainability initiatives."
Several tests were conducted, both at MHI's facility and the production floor of an Amcor customer. The trials were conducted on MHI's EAGLE-Rx Blister Machine, a compact, balcony design, servo-driven unit capable of running up to 100 cycles/min at a format area of 90x130mm.
Obstacles the teams encountered included some difficulty chopping the trim of the HDPE, as well as some card jamming issues. At Amcor's customer's plant, the card jamming was resolved with adjustments to the timing of the suction arm; the trim cutting would require some minor machine modifications. Soon, the team was able to validate material at the customer's current top line speed.
Amcor and MHI also conducted trials using MHI's EAGLE-Omni machine, notable for its deep draw thermoforming capabilities. "Tests incorporated a flat upper sealing plate to assist with leak detection. At first, they encountered some issues achieving consistent forming, and reaching maximum run speeds. MHI determined that the challenge revolved around air flow, and was able to rectify the issue. Coupled with more exacting temperature settings, the team was able to achieve top run speeds," explains Yonenaga.
The successful Amcor-MHI partnership could serve as a roadmap of sorts—one whose destination is the widespread adoption of sustainable blister packaging systems across the pharma and nutraceutical sectors. The pairing of materials science innovation with adjustable thermoforming equipment is a must-have combination to bring next-generation packaging systems to market.
Companies in this article