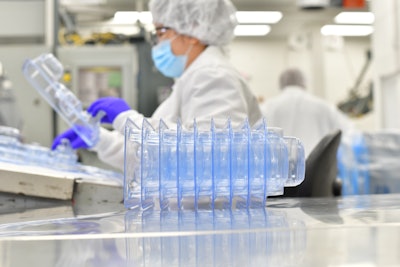 In any packaging conversation, "sustainability" is bound to come up, but the topic means different things to different stakeholders. At PACK EXPO International, we talked with Zach Muscato, corporate sustainability manager at Plastic Ingenuity, who has 20 years of experience in the thermoformed packaging industry, about what he's seeing across healthcare and food packaging.
Healthcare Packaging (HCP): Life science brand owners are typically slow to adopt packaging changes due to patient safety priorities and regulatory activities. As your customers in life sciences tackle their sustainability improvements, where are you seeing broad focus?
Zach Muscato (ZM): From a healthcare perspective, the focus is on a package's end-of-life improvement, particularly for applications that are used in a clinical setting like a hospital. Nearly all of those materials today are incinerated or go to landfill. That's not acceptable, so you have nonprofits like Practice Greenhealth and group purchasing organizations that are really driving the conversation forward by saying, 'Look, we need better end of life solutions in place.' Easier said than done of course.
It feels like people are finally a little more open to trying to change. Maybe that's my perspective, seeing them when they're ready for a change. I would say some organizations are prioritizing this, trying to be thought leaders, and those are the ones that we really want to work with.
HCP: Can you give a brief overview on the landscape of recycling healthcare packaging?
ZM: There are a lot of barriers to recycling in healthcare facilities. That's where there's a lot of interest, figuring out how we get to a system where these packages are recovered in a healthcare setting, because they're highly valuable and they're typically all virgin material.
Plus, there's not enough PCR from other sources to go around right now. It's in huge demand for all industries. So, there's a lot of focus on collection, and then that's where advanced recycling plays a really key role—processing a mix of materials that's really unique. MDMs are trying to figure out the best way to use that now that it's emerging. It's going to be interesting to see how all these materials get collected, aggregated, and sorted and transported at whatever volume it is to the facility.
HCP: What have your customers been seeking lately?
ZM: We're a custom thermoformer, so pretty much every application is custom and highly engineered. But I can say from a healthcare perspective… traditionally, the industry has almost over-engineered packages to reduce risk, and they're realizing now that that's no longer acceptable because that can lead to unnecessary waste. So, companies are walking that fine line between ensuring patient safety—making sure that the device is protected, that's the number one job of the package—but also making this packaging system as efficient as possible.
That's where we're pulling in our design engineers and material innovation solutions. When you redesign it, make it more efficient, and sometimes go to a unique material, you can unlock some big savings. A lot of things like that make a difference.
HCP: What are the hot topics for packaging in other (non-healthcare) sectors?
ZM: It's all about circularity both for food packaging and consumer goods: using recycled content, and on the front end, making sure that the package is recyclable and designed for recycling standards.
In food specifically, it's PCR, PCR, PCR. I would say, people are exploring compostables, but the infrastructure for composability is further out than recycling. So we're seeing more interest in recyclable PCR. That's not to say composability doesn't have a future, it's probably just a bit further out. When we compost something, we lose all the energy that we've put into it, because the packaging isn't supplying nutrients back into the earth—it's carbon.
Another hot topic in food packaging sustainability is barrier packaging. Often those are multi-material packages, which can mean that they're not recyclable. So, there's a focus on developing the barriers that are recyclable: some are monomaterials or construction that would flow into say a polypropylene recycling… without compromising shelf life.
Approximately 8% of global greenhouse gas emissions come from food waste. We'll have a food customer that might say, 'We want to remove the barrier from our package.' We'll look at this holistically: we could remove the barrier and make it completely recyclable. But shelf-life will go from six months to six weeks. So we'll look at what can we do so we don't sacrifice barrier, but still make it recyclable.
HCP: Are there any processing issues with thermoforming PCR content?
ZM: It's hard to look at PCR and put it all in one category because there are so many different grades. So it is challenging to get the higher-grade material—a lot of those go to bottles. Where we focus is on the medium to lower grades. We have the equipment in place that can strip out all the impurities, make sure it's suitable for food packaging, build the quality aspect. So those are some of the challenges from a processing standpoint. Not that it can't be done. It just takes a little more consideration.
HCP: We often hear that some plastics can only be recycled about twice. Can you elaborate on the meaning behind that? Is it a matter of material getting filtered out during reprocessing after multiple cycles?
ZM: There's a lot of nuance to that. Certain polymers can be recycled infinitely. It is technically feasible to do that, like with PET. But in America, we're only collecting and recycling 27% of PET bottles, so the likelihood of that getting recycled more than one time in practice is pretty low. It is technically feasible to do continuously. It's a matter of infrastructure, capturing it, getting it into the recyclers and reclaimers so that they can do what they do. Reprocessing technology is improving by leaps and bounds so quality doesn't degrade in each cycle. So the technology's there. We just have to capture more.
We're a member of The Recycling Partnership. In their non-profit model, they take funds from organizations like ours, brand owners, retailers, really the whole value chain. They distribute those funds to sorters and communities, and sorters might buy a robot with it. So now they can sort out a certain type of package. The communities might purchase carts for their citizens so that now they can use the big carts not the little bags.
Where their magic comes into place is they really leverage big data to find out where you get the best ROI, so our funding is going directly to valuable projects.
Companies in this article