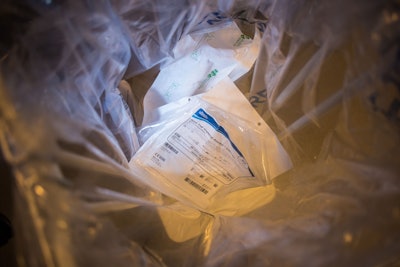 [This story originally ran 2/22/2018]
At Aarhus University Hospital (AUH) in the central region of Denmark, Susanne Backer and her colleagues had a tough job ahead of them. "Lots of people and organizations want to reduce plastic," the project leader for circular economy said in her presentation at Pharmapack Europe. "But the effort has to be valuable or it won't live long."
AUH conducted more than 100,000 surgeries in 2016 and currently employs approximately 10,000 people.In 2017, AUH generated approximately 3,300 metric tons of waste, with the following breakdown:
Waste to energy – 79%

Recycled – 20%

Landfill – 1%
Low recycling rates are a common problem at hospitals worldwide, where single-use products, double-wrapping and complex composites are the norm. Some express the feeling that the lack of recycling is an unfortunate but necessary effect of sterility and patient safety. But Backer is working to challenge that concept and improve recycling rates while upholding safety and hospital efficiency.
Project goals
Backer and her team set out to increase recycling and the circular economy of the hospital's plastic packaging waste, recycling 70% of waste by 2030, with 29% wasted to energy and 1% waste to the landfill.
Backer said, "The questions we ask—and you may not like them—are 'How do we avoid using packaging at all? How do we reduce packaging? Or how do we recycle packaging?'"
She cited an example in which some products come in an overwrap. This extra layer is useful; it prevents evaporation and helps keep the product sterile. "But we require a shelf life of 36 months, yet some aren't in the hospital for two weeks. Can we rethink our demands on product shelf life and then reduce plastic weight and costs? And ease the nurses' workload because they have to do less unpacking?"
Mapping the plastic
The group ran a trial at the hospital in November 2016, following a similar pilot study at Stanford University's hospital published in 2013. They had nurses at AUH sort plastic for 48 hours at the source, in order to separate clean plastic from dirty. The more controlled the area the sorting took place in, the easier it was. Nurses in patient wards were so focused on patients that they gave up sorting before the trial was over. But sorting was possible in more planned areas, such as the operating theaters, pharmacy and radiology departments.
The plastic sorted by the nurses was then sorted and analyzed by experts. Backer noted that the biggest percentage of the packaging fell into the "unknown plastic" category, hard to identify even by experts. After sending the unknown plastic for testing, she said 18 out of 20 were "ugly ones… combined polymers," which are not candidates for recycling. "This meant there was a big task ahead of everyone involved."
The good news is that the second largest proportion was LDPE, common in peel packs, and the hospital already had a process in place for sorting the material out.
Where to start
Though nurses are willing to sort the waste, the plastics are complex and there are many suppliers, which makes it difficult to get a program started (there were 162 different suppliers on the samples they could check from the trial). At this time, the team has not calculated added labor costs from sorting, though Backer said it is an issue.
Together with the Healthcare Plastics Recycling Council (HPRC), Backer said they took the top suppliers of waste and pulled them into the conversation with procurement and recyclers. They met for two days looking at ways to tackle the challenge. With such a complex problem, they decided to keep things simple by focusing first on irrigation fluids, which are clean products and feature big pieces of plastic.
"We worked with suppliers like Fresenius-Kabi, B Braun and Baxter. We asked about the ratio between volume and the mix of polymers," Backer said. They looked for ways the nurses could sort out more single polymers—high-quality plastic—and get it back into high value chains and beyond. Maybe a given plastic can't be recycled back into medical packaging, but can it become a shampoo or detergent container?
Another customer
The effort is extremely important, but it does add a layer of complexity. The recycler becomes another customer in the value chain, and their wishes and needs must be accounted for. "Melt flow index, recycling compatibility, design guidelines. It's a totally different language with the recycler. You make all these different partners, but the one common language is the value in Euro, and reduced CO2 emissions and energy consumption," she said.
Demanding recycling
Backer noted that no one will take part in recycling if there isn't a demand. "We have to reduce complexity to increase recycling," she explained. "We have to demand from suppliers that it's marked for recycling and specify the accepted polymers so that we can get rid of the unknown, unmarked plastic that we can do nothing about."
Future efforts
It's a larger effort than one hospital or country can take on. Backer said, "I'm in contact with hospitals in Sweden, Norway, etc. Suppliers are mostly global so we need more markets than just Denmark. We are involving other hospitals and building up that community.
"We hope this will spread and we're always willing to share our work," she said. AUH is working on their requirements from suppliers, and looking at more and better sorting methods to extract more high-value plastics. She hopes brand owners will begin to (1) simplify their packaging designs by limiting the number of polymers in a product and (2) mark them for recycling.
Backer and her team are also trying to develop new business models. She noted, "We seemed to disrupt the business model, which makes suppliers tend to withdraw. It is certainly not without challenges. There's a limit to how long you can keep people positively involved when you are disrupting their business model."
Sidebar: Competitive Factors for Materials
The material is fully compatible with plastic recycling guidelines

There are local recycling plants that accept it (local options are important because transportation affects CO2 emissions)
For more resources, Plastic Recyclers Europe offers online assessment tools, guidelines and an optional certificate.