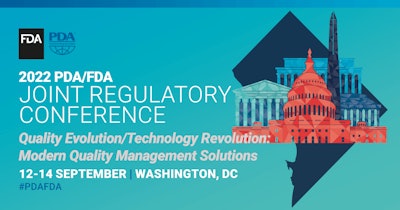 The Parenteral Drug Association (PDA) and the U.S. Food and Drug Administration (FDA) are once again co-sponsoring the PDA/FDA Joint Regulatory Conference, which is now in its 31st year. This flagship conference provides opportunities for attendees to learn about current issues relating to manufacturing and quality assurance. The Conference emphasizes the role of effective quality systems in ensuring an ongoing state of control throughout the product lifecycle by vigilantly managing risks to manufacturing and quality. The roles of robust systems, facilities, processes, raw material quality, supplier relationships, industrial modernization, and quality risk management are emphasized. Case studies are presented throughout the conference to provide practical insights into these concepts and illustrate how sustainable compliance establishes the foundation for quality and supply consistency. International collaboration efforts that improve quality and benefit the consumer are also highlighted. 
Agenda highlights include:
Speed vs. Quality: Advantages and Pitfalls of Just-In-Time Manufacturing
The Digital Automation Revolution: Implementation and Validation
Building Quality into Complex Drug Products
Digital Twins
Using Audit Observations to Predict Problems
Center Office Updates from CBER, CDER, and More

Innovative Manufacturing: Pathways to Implementation for Biologics and Biotech

Achieving Zero Defects
Early bird registration ends July 17. Click here for registration and info.


Check out a sampling of past coverage here:
Pitfalls to Avoid in FDA Aseptic Manufacturing Inspections

Applying Modern Technology to Pharmaceutical Production Facilities

Chemonics Study Leads Results in Temperature-Sensitive Drug Distribution in LMICs

Live from PDA/FDA: FDA Considers Incentivizing Quality Management Maturity (QMM)