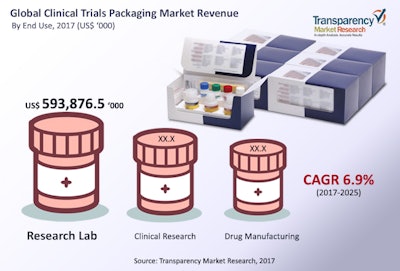 Chronic diseases such as HIV, cancer, and epilepsy present numerous negative healthcare ramifications. One of the positives in the effort to combat these diseases is the growth of the clinical trial market, where a surge in demand is leading to increased outsourcing of drug discovery services.
An increasing emphasis on global R&D, coupled with rising government funding for the development of new drugs, is predicted to help augment clinical trial market growth. New business entities focusing on launching new products and adopting new technologies also bolster this market.
On the other hand, a lack of infrastructure and inadequate trained professionals are restraining the clinical trial supplies market to some extent.
These are among findings from a Transparency Market Research (TMR) report on the global clinical trial packaging market.
TMR predicted the global clinical trial packaging market will expand at a healthy 6.9% CAGR between 2017 and 2025, and rise to a valuation of $1.66 billion by the end of 2025.
Of the key packaging types examined, the report says the bottle segment dominated the market in 2017, holding more than 65% of the global market. TMR projects that bottles are likely to retain their dominant spot during the forecast period.
Some other clinical trials packaging market insights from the report include the following:
• The industry exhibits intense competition and fragmentation, with the top five enterprises collectively holding less than 15% of total market share in 2017.
• Vendors in the industry are receptive to needs of large pharmaceutical firms developing novel drugs.
• Geographically, North America is anticipated to lead the global clinical trial packaging market, at 7.7% in terms of value. Clinical trial manufacturers are setting up operations in markets with strategic economic advantages. For example, clinical trial packaging manufacturers in North America and Europe are considering investing in regions such as Eastern Europe.
• Clinical trial packaging market manufacturers are expanding their geographical footprint through mergers and acquisitions.
• One clinical trial trend is the growing importance of booklet labels.
• A variety of plastics have emerged in the packaging industry, leading to rapid advancements in technology, including extrusion blow-molding, injection blow-molding and 3-D designing software tools for the improvement of product designs.
• Plastic accounts for a large share in the global clinical trial packaging market. However, the negative environmental impact from the accumulation of non-biodegradable and non-recyclable plastics is compelling companies to focus on the development of sustainable products such as bio-based plastics.