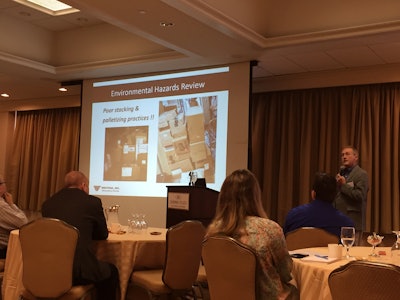 Your distribution environment is easy, right?
The delicate medical device, that you've put thousands and thousands of dollars into developing will go from the manufacturer to the customer, and will get there in the same perfect package it left the facility in.
"I wish it were this simple," said Tres Wood, a test engineer at Westpak, during Q1's 4th Semi-Annual Medical Device Packaging: Innovations in Design and Testing Conference in Alexandria, Va. "You make it. You sell it to the customer and that's all you have to think about."
This multilayered process likely contains more steps than you want to count, which is why it is important to not gloss over appropriate package integrity testing.
"When do you want to know the results of how well your package holds up," he asked? "When the customer is calling you asking you what's wrong with your package, or upfront?"
Tres outlined why this step shouldn't be overlooked, and went over many of the pros and cons of various testing methods.
First things to consider are the environmental factors. This includes rough handling, compression, packages being dropped, as well as poor stacking and palletizing practices.
"Get familiar with your shipping environment," he said. "Go out and talk to your drivers. Get an idea of what your packages are going to see in the real world."
All of these issues can lead to sterile barrier system failures, which can compromise a product.
This is why Wood maintains that every package a company sends out needs to go through integrity testing. But, where does a company start?
First, know the shipping method the product will use, and understand that different products may ship differently. Find a test planning tool, and a test lab with which to partner.
Wood lined out some of the advantages and disadvantages of a variety of tests.
As a general rule, ASTM tests often take longer to complete than ISTA tests.
Shorter duration tests can be less expensive, but may, or may not give all the information a company may need.
Tests involving compression have been accused of being overly severe as compared to what happens in the real world, but companies should always plan for the unexpected.
Next decision is seal integrity testing, which offers several options.
With burst testing, companies can get fast results and learn how easy or hard their package is to open and whether seal strength is consistent. However, it can miss small breaches in the barriers. A baseline value must first be established, with separate samples used for burst testing.
Dye penetration testing can be fast and inexpensive, but it only tests the seal area, not the entire sterile barrier system. Results must be documented immediately; the test typically does not tell the company if the seal is weak or too strong.
Seal strength testing is fast, somewhat inexpensive and can tell if a package is barely sealed or too tightly sealed. But, it won't detect pinholes/channel leaks, and only tests part of the seal area. Results are dependent on accuracy of sample prep and test setup.
Bubble testing tests the entire package for barrier breaches, not just the seal area. It works on both porous and non-porous packages, and on both pouches and trays.
With this test, however, if the lab doesn't have a standard operating procedure detailing how each step of the test will be performed, then the test results may vary from one test to the next.