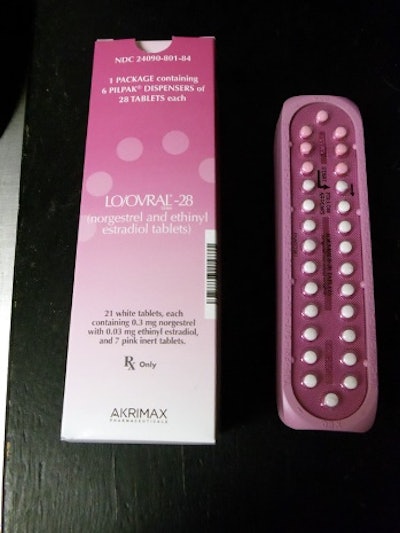 Packaging's significance was in the national spotlight Feb. 1 as Pfizer Inc. announced a voluntary recall of Lo/Ovral®-28 (norgestrel and ethinyl estradiol) and Norgestrel and Ethinyl Estradiol Tablets (generic) birth control pills in the U.S.
A YouTube
video statement
shows Pfizer executive vice president and chief medical officer Dr. Freda Lewis-Hall addressing the issue. She says, "Recently, it came to our attention that there may be an issue with the way some of these pills were packaged…and that the inactive or placebo pill may have been placed out-of-order in some packs."
She continues, "Upon discovery of the issue, we took corrective action and notified the FDA. Based on our own rigorous internal assessments of this problem, we believe there are approximately 30 packs of birth control pills that may have received an inexact count or inactive tablet.
"Because of our high quality standards, should we identify even one package that does not meet our high standards, we will voluntarily recall the entire lot. Therefore, we have voluntarily recalled the 28 lots, which [are] approximately 1 million packs, to ensure that any possibly impacted product is removed from pharmacy shelves--and women who use the product are alerted.
"If you are a woman in the United States who has used Lo-Ovral or Norgestrel pills over the last several months, please consult with your physician and begin using a non-hormonal barrier method immediately," says Lewis-Hall.
Pfizer's Web site offers several areas for help:
o Correctly packaged LoOrval blister pack image (shown here)
o Correctly packaged
Norgestrel image
:
o To view
lot numbers
MedWatch report
The U.S. Food and Drug Administration's
MedWatch
provided the following details:
"An investigation by Pfizer found that some blister packs may contain an inexact count of inert or active ingredient tablets and that the tablets may be out of sequence. As a result of this packaging error, the daily regimen for these oral contraceptives may be incorrect and could leave women without adequate contraception, and at risk for unintended pregnancy.
"BACKGROUND: These products are oral contraceptives indicated for the prevention of pregnancy. These products are packaged in blister packs containing 21 tablets of active ingredients and seven tablets of inert ingredients. Correct dosing of this product is important in avoiding the associated risks of an unplanned pregnancy.
"RECOMMENDATION: Patients who have the affected product should notify their physician and return the product to the pharmacy."
A Feb. 1
CBSnews.com report
provides this perspective: "Birth control pills are known to be nearly 100 percent effective when taken properly, but a recall of the drugs could send a shudder through women of childbearing age."
The article said, "The packaging mistake worries Kendra Mifflin even though she takes a different brand of the pill.. "You take it for a reason, and if that gets messed up…it could change your life," she said. "It has a big impact, just a simple mistake like that."