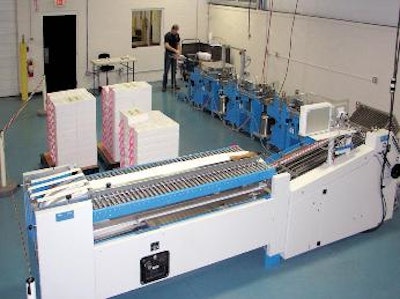 In 2006, the U.S. Food and Drug Administration increased type-size, format, and content requirements on medication labeling for patients and dispensing professionals, making labels easier to read. Full implementation of the requirements is scheduled for completion by June 2013.
For
Gooding Co. Inc.
, a current Good Manufacturing Practices (cGMP)-compliant printer specializing in the manufacturing of inserts and outserts for the pharmaceutical industry, the FDA ruling prompted the purchase of an MV-2011 Outsert System from
Vijuk Equipment, Inc.
.
"The new Vijuk system is an investment in our customers. It will allow us to lay out FDA-compliant, yet cost-effective inserts and outserts in sizes that were not readily available for us in the past," says Jerry Hace, Gooding's president. The 27-ft-long equipment, added in November 2011 at the company's Lockport, NY facility, enables Gooding to produce inserts and outserts with 40% more panel space than previously available, while maintaining the same final folded size.
Before adding the new equipment, Gooding could produce inserts and outserts with up to 150 panels. Now it can deliver up to 210 panels, which helps Gooding's pharmaceutical customers comply with the FDA rule changes. Specifically, Hace refers to the Federal Register/ Vol. 71, No. 15/ January 24, 2006, page 3922, 21 CFR Parts 201, 314, and 601, "Requirements on Content and Format of Labeling for Human Prescription Drug and Biological Products."
The new Vijuk system is technologically advanced. Its features include a touchscreen, color-graphical control panel; water and rotary scoring for accurate cross folds; "intelligent" electronic jam and double-sheet detection sensors; digital dials for quicker reads; heavy-duty pressing units; a continuous-load R6 round pile feeder, capable of feeding sheets up to 40-in. long; and an integrated gluing system. In addition to producing a product with more copy space, the MV-2011 also produces a product that is thinner, which saves customers on storage and shipping costs.
The MV-2011's continuous-load round pile feeder separates the 210-panel pharmaceutical PI (Prescribing Information, with or without a Med Guide) into single sheets traveling down a register table to ensure proper alignment into the machine's first fold unit, which includes 14 fold plates. The first fold unit makes 14 parallel (fan) folds resulting in an initial 15 parallel panels exiting onto the second folding unit's register table.
The long and narrow piece registers (or aligns) with the second unit's fold plates and receives two folds before exiting into a three-knife section of the machine. Because of the thickness of the piece, it travels through the first of three knife or plow-fold units where a knife actually pushes the piece into rollers that grab it and move it onto the next section. The first and second knife units consist of the knife fold and pressing unit that flattens or compresses the piece before entering the next section.
A third knife unit then applies a spot or two of glue just prior to the final knife fold passing through the last pressing unit. This sets the glue and delivers a finished insert or outsert product into a delivery section consisting of 15 panels in one direction and an additional 14 panels in the right-angle section, resulting in a 210-panel product.
Growing into the pharmaceutical business
Hace purchased the now 135-year-old Gooding business in 1990 from the Gooding family. At the time, Gooding produced primarily printed business forms, which were becoming outdated. "The facility we bought looked every bit its age, and we knew the company had to change," Hace recalls. "We did our research and determined that we could produce the lightweight pharmaceutical inserts and instruction sheets inserted into pharmaceutical cartons and the outserts glued on bottles of medications, as well as the topserts adhered to the tops of the bottles. We actually started with hair care and dinnerware customers in the consumer packaging area, but we worked with industry specialists to implement cGMPs that allowed us to get into the pharmaceutical industry."
Once cGMP-compliant in 1999, Gooding broke ground on its current 17,000-square-foot facility, which includes temperature, humidity, and pest controls, with additional acreage available for expansion. About 85% of its present business is in pharmaceuticals, with the balance in consumer packaged goods production.
Gooding's primary customer base consists of mid-sized pharmaceutical firms, many of which make generics. Gooding also produces inserts for contract packagers. The company embraces LEAN manufacturing philosophies that provide scheduling flexibility, producing orders from a range of tens to hundreds of thousands, even millions of inserts and outserts.
A client either sends Gooding its FDA-approved copy already formatted, or Gooding's PreMedia Department formats the copy to ensure compliance, which is more often the case. Hace explains, "We also invested in an electronic comparator that allows us to scan press sheets throughout the printing process and compare them with the electronic master file—pixel to pixel; it's an extra validation process we believe is critical. Some of our competitors have this capability, and some don't." The Guardian comparator with scanner is supplied by
PC Industries
.
"We also utilize a
Global Vision
count validation system that automatically counts the number of folded inserts or outserts in each tray. Once the count is validated, each tray is numbered and labeled via an integrated ink-jet printer as part of the audit trail. So, for example, if there are 50 inserts per tray, and there are 1,000 trays or 50,000 pieces total, and an imperfection is found on an outsert in tray number 313, we can trace it back through our records, see when it came off the press, what batch it was in, and the degree of the problem from our statistical records. There is an audit trail for the entire production run so we never lose track. The outsert that is printed, folded, tray-packed, and boxed is validated at each step prior to the next, with written records signed off by two individuals confirming the tracking or ID numbers," he notes.
Future benefits
Looking back to the 2006 FDA ruling, Hace says, "That's the reason we bought the new Vijuk machine. The rule went from four- or five-point type to eight-point if it's a physician or a prescribing professional, and 10-point type for consumers. So that meant the copy needed a lot more room. And it forced us to upgrade our equipment."
Hace admits the financial investment was expensive. "It's an upgrade for us and it helps because our line continues to grow, and we are growing as a company. We are doing more pharmaceutical work, and it seems that we are coming into our own in the marketplace," he says.
Why did the company purchase the Vijuk system in particular? Hace notes that Gooding had already been operating five other Vijuk units at the facility. "They have multiple patents on the equipment, the equipment is good, and there are not a lot of [other machines] out there that can actually do all of the work this one does. We can produce inserts down to one and one-eighth inch square, normally up to 90 panels and outserts up to 210 panels that are one and one-quarter-inch square. We do long and skinny inserts for packages as well."
So, what's the return on investment (ROI) goal for the new machine? Hace explains, "For these types of machines, with a company our size, the ROI goal would usually be in the five- to seven-year range. But I believe it will be less than five years for us, so that's pretty good!"