PMMI Business Intelligence: 2023 The Impact of Global and Local Standards on OEMs & Suppliers
The standards behind that automated slicer or roaster may not be so cut and dry.
Some machine production environment categories have their own specific standards that differ from more widely accepted guidelines, according to PMMI Business Intelligence's 2023 report "The Impact of Global and Local Standards on OEMs and Suppliers."
Machine categories with separate standards include conveyors, ovens, and robots.
For example, the ANSI/RIA R15.06-2012 Industrial Robots and Robot Systems – Safety Requirements, published by the Robotics Industry Association (now A3 Association for Advancing Automation), is intended to increase uniformity across the industry, lower risk and liability for OEMs and end users, and reduce costs. There's also a standard for mobile robots, R15.08-1-2020 Mobile Robot Safety Standard.
Many machines are used in the food and pharmaceutical industries where hygienic design is needed to ensure equipment can be cleaned properly and products remain contamination-free.
Detailed advice on hygienic design in food machinery is contained in EN 1672-2 Food Processing Machinery – Basic Concepts – Part 2: Hygiene and Cleanability Requirements, according to PMMI's 2007 Guide to the Key European Directives for Packaging Machinery – Fourth Edition.
Machine standards for hazardous environments
Equipment designed for hazardous environments, e.g. dusty or volatile gases, must meet ATEX or HAZLOC (hazardous location) requirements.
In the E.U., the Equipment for Use in Potentially Explosive Atmospheres, or ATEX Directive (from the French Atmospheres Explosif), details requirements for testing and certification that the machine is designed to prevent unexpected combustion, according to the PMMI 2007 guide and Excell Battery Co.'s "A Quick Introduction to HAZLOC and ATEX Requirements."
In the U.S. and Canada, such devices must be HAZLOC-rated. HAZLOC organizes devices according to class.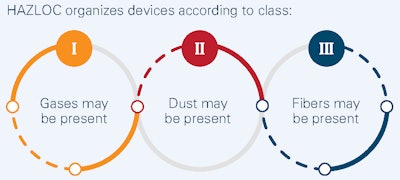 Class I denotes when gases may be present. Class II is used when dust may be present, and Class III is used when fibers may be present. Classes are then divided by whether the hazard is always present or only exists under abnormal conditions.
However, a transition is occurring, and new devices should now conform to the IECEx standard, an international system prepared by the International Electrotechnical Commission for certification of equipment for use in explosive atmospheres. It's harmonized with the ATEX Directive and uses symbols and alphanumeric codes to classify different types of hazardous (explosive) conditions and to define the likelihood of an explosion in those conditions.
Unlike the HAZLOC system, the IECEx and ATEX systems are zone-based and classify the degree to which hazardous gases or dust are present by numerical zones.
It should be noted that certification applies only to the specific device tested. If two or more certified devices are used together, the combined system must be tested and certified for the location where it will be used. This process typically involves a specialized lab and a third-party certification company.
SOURCE: PMMI Business Intelligence, "2023 The Impact of Global and Local Standards on OEMs & Suppliers"
Download the FREE report below.