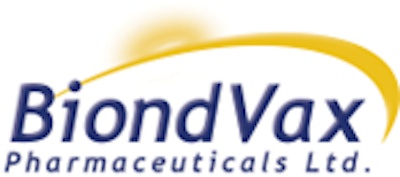 This content was written and submitted by the supplier. It has only been modified to comply with this publication's space and style.
BiondVax Pharmaceuticals has announced additional results in a preclinical in vivo proof-of-concept study of its innovative inhaled nanosized antibody (NanoAb) COVID-19 therapy, namely that the presence of the SARS-COV-2 virus in the lungs of hamsters treated with BiondVax's NanoAb was below detectable levels and significantly (p<0.0005) less than the amount of virus detected in the placebo group.
The first (experimental) group was treated with BiondVax's anti-COVID-19 NanoAb, administered via inhalation, starting 24 hours after being infected, while the second (control) group was treated in the same manner but with a placebo. The study's design was intended to mimic a real-world situation in which treatment is provided well after, and not simultaneously, to the moment of infections.
Six days after infection, compared to the placebo group, hamsters treated with BiondVax's inhaled NanoAb not only had over 30 times lower SARS-COV-2 viral titers in their lungs as measured by median tissue culture infectious dose (TCID50), but also those levels were at the border of detection, suggesting potential virtual elimination of the virus from their lungs. These results also were corroborated by PCR.
The efficacy of BiondVax's inhaled COVID-19 NanoAb also is supported by additional data from the same study showing that compared to their weight immediately prior to infection, the control group's weight declined on average 12.01%, while the weight of the experimental group, which was administered BiondVax's NanoAb through inhalation, declined on average only 3.80%, a highly statistically significant result (p<0.001). These successful results were further supported by eight other tracked parameters, including heart rate and social behaviors, which indicated the group treated with inhaled NanoAbs experienced a milder and shorter illness.
Dr. Tamar Ben-Yedidia, BiondVax's chief science officer (CSO), explains, "These lung viral titer results indicate that our inhaled NanoAbs essentially eliminated viral presence in the lungs, and led to a shorter and milder illness. This data is unequivocal and exciting. We're looking forward to continuing this study this month by testing additional dose levels of the inhaled NanoAb therapy and as a prophylactic (preventive) treatment. Results of the trial will inform design of the first-in-human clinical trial of the inhaled NanoAb COVID-19 therapy, which is planned for late 2023."