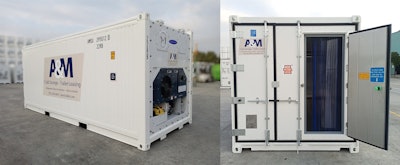 A&M Cold Storage–a provider of cold storage services for many industries–recently responded to Carrier's call to support COVID-19 vaccine distribution efforts by making available 90 Carrier Pods monitored by Sensitech to help address the anticipated increase in demand for refrigerated storage capacity. Carrier and Sensitech are part of Carrier Global Corporation, a provider of cold chain systems.
Each Carrier Pod is fitted with Carrier's TripLINK data management platform, which is designed to provide 24/7 remote and secure monitoring of the health of the refrigerated container and cargo, with an integration with the Lynx digital platform. These units have been adapted for optimal use in the field with flat flooring, interior lights and doors with safety releases and easy access that do not downgrade the insulation or cooling capabilities of the container, helping to ensure the shelf life of the temperature-sensitive COVID-19 vaccines, says Carrier.
With Carrier Pods monitored by Sensitech, container refrigeration units are made to deliver temperature control within +/- 0.25 degrees Celsius and temperatures down to -40 degrees Celsius, while their monitoring devices can track temperatures down to dry ice conditions of -95 degrees Celsius. Their mobility should allow for easy relocation to address shifting capacity demands or temporary vaccine administration locations.
Companies in this article