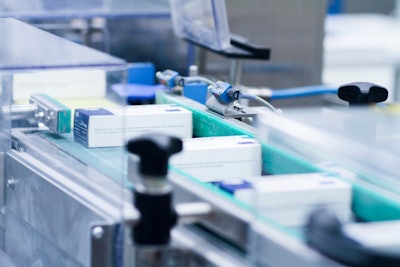 Getty Images
This year's pharmaceutical and medical device investments are a far cry from the success of 2022, but the industry continues to grow at a slower pace.
That's according to PMMI Business Intelligence's 2023 report, "Purchasing Plans and Priorities." The report analyzes packaging industry sectors through a purchasing index that measures expected investments, scheduled projects, and the number of SKUs manufactured, with an index of 50 representing the midpoint or no change.
Pharmaceutical and medical device companies are optimistic about market trends, with expected increases in investments at an index of 69.1, scheduled projects at 71.4, and the number of SKUs at 73.8.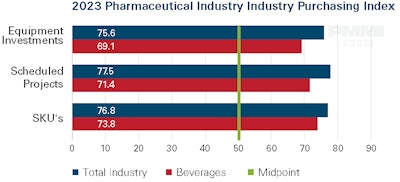 Those numbers show industry expansion, but compared to 2022, these companies anticipate a significant deceleration in the number of scheduled projects. The prior PMMI purchasing index measurement for scheduled projects was 91.7.
The pharma and medical device sector is also trending lower than the overall industry in every category. The total industry's 2023 index is 75.6 for equipment investments, 77.5 for scheduled projects, and 76.8 for the number of new SKUs.
Pharmaceutical and medical device industry concerns
Inflation, higher interest rates, decreased availability of research and development funding, and supply chain problems were among pharmaceutical and medical device companies' concerns in a survey conducted for the report.
Within this sector, 48% of companies expressed supply chain improvements, while 19% indicated it is worsening.
European (mostly German, Italian, and Swiss) machinery companies have traditionally had strong penetration in this sector, with a smaller representation of Japanese and American companies. Users reported problems finding suppliers in Europe able to commit to delivery dates.
Pharmaceutical machinery purchase origins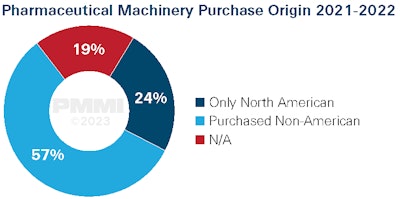 The trend of buying machinery from outside the U.S. has continued in recent years in the pharmaceutical and medical device sector. Over half (57%) of survey respondents indicated they purchased machinery from outside the U.S. between 2021 and 2022. Another 19% of respondents were not sure where their machinery was manufactured, leaving about a quarter (24%) of respondents that have only bought North American machinery in recent years.
Within the pharmaceutical sector, safety and flexibility ranked higher as operational priorities than in any other industry, and those topics were frequently discussed in post-survey interviews.
"Pharma and medical device companies need to comply with Good Manufacturing Practices (GMPs) and industry-specific regulations," one survey interviewee says. "Most have controlled environments and strict documentation and quality control requirements. Thus, only a few pre-qualified vendors can participate in our purchasing processes."
Survey respondent recommendations for packaging machinery companies in this sector were diverse, ranging from providing spare parts, to lower prices, total cost of ownership, and service.
The most common recommendation was to provide faster spare parts delivery. Some of the respondents indicated they would like to see faster response times when they require a part or component that is not considered part of a regular maintenance program.
SOURCE: PMMI Business Intelligence, "2023 Purchasing Plans and Priorities"
Download the FREE executive summary below.