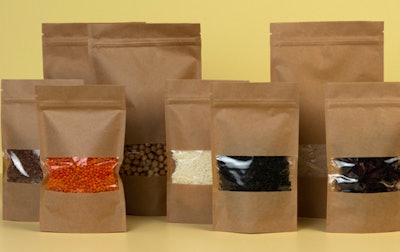 PMMI Business Intelligence/AMERIPEN, "2023 Packaging Compass"
Flexible plastic films are growing as fast as the challenge of recycling them, but sustainable solutions are available through emerging infrastructure, according to PMMI Business Intelligence and AMERIPEN's collaborative report, "2023 Packaging Compass."
Only 1.9% of the U.S. public has curbside access to recycling flexible plastics, the report says, citing a 2021 report from The Recycling Partnership.
These materials can complicate the sortation phase of materials recovery by tangling and wrapping up in equipment, among other issues. Many community recycling programs have banned the collection of flexible film packaging due to this.
Instead, most post-consumer flexible plastics recovered in the U.S. are collected via retail drop-off programs, but consumer participation in these programs is low.
Close to 95 pounds of flexible and film plastic, including bags, pouches, and wrappers, are found annually in the average U.S. home, according to the Recycling Partnership report.
There is a belief that the U.S. could increase total flexibles recovery volume if municipalities could effectively incorporate these films into the curbside collection. Finding a way to collect films would improve the economics of recycling as well as access to valuable plastics.
The recycling community is quickly adopting artificial intelligence (AI) technology, which could help with this.
AI includes using robotic arms and other technologies to help sort and identify flexible films (among other materials) quickly and early in the sorting process to prevent damage to existing equipment and ensure recovery. This could help reduce concerns with the sortation of flexibles from curbside materials.
Chemical recycling could be another solution. It could help increase the quality of resin for reuse and permit the increased collection and reduced sortation requirements.
Chemical recycling is also believed to help increase access to U.S. Food and Drug Administration (FDA) approved recyclable content for food contact use – permitting the increased opportunity to reuse films for circular reuse rather than directing it to downgraded products.
Investments in the collection, sortation, and processing of flexible films are emerging. The next few years will help provide an increased understanding of the potential impact of these technologies as well as opportunities and investments needed to improve collection and sortation.
But progress will happen faster if the packaging industry aligns these investments with the regulatory and legislative environment to support progress.
Source: PMMI Business Intelligence and AMERIPEN, "2023 Packaging Compass"
Download the FREE report below.
Companies in this article