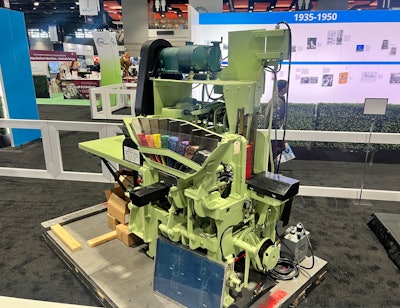 Kim Overstreet
Diagraph Marking & Coding, an ITW Company
The innovative Bradley Stencil Machine was invented in 1893 to expedite the laborious process of hand addressing cargo along the Mississippi River. The machine emphasized ease of use, reshaped the way shippers conducted business, and opened the doors for the marking industry to include a variety of shipment and product information on the outside of shipping containers. In 1902, the Diagraph, a circular stencil cutting machine, was introduced. The Bradley Stencil Machine received the Gold Medal at the 1904 Louisiana Purchase Exposition (St. Louis World's Fair) for its revolutionary impact on product marking. Diagraph is proud to have launched the product identification industry nearly 130 years ago and today offers a complete line of product identification equipment.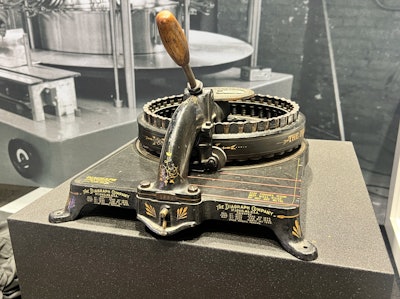 R.A. Jones
The R.A. Jones intermittent automatic crayon cartoner has a vertical reciprocating carton feed with tuck closing. The crayons are direct loaded by a cross push loader in fours or eights. While this vertical crayon hopper has been updated for modern machines, this same method is still used in crayon factories today. This machine was used by The American Crayon division of Joseph Dixon Crucible Co. in Sandusky, Ohio.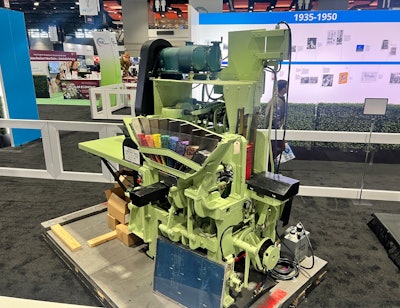 R.A Jones
Also from R.A Jones, the Automatic Soap Press revolutionized the soap industry by meeting growing demands. Prior to 1912, soaps were pressed by a hand and foot process unsuited to high-speed mass production. The function of the soap press is to form the soap into a distinctive size and shape and to stamp the name and manufacturer it into the cake. With its toggle motion, this Type K Press held dies in longer contact with the soap, resulting in perfect impressions and a highly finished cake that did not crack or chip.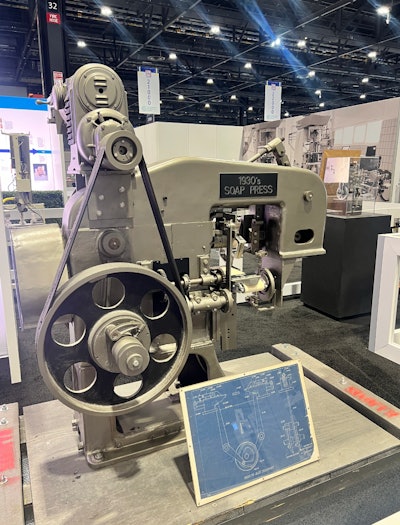 PAC Machinery
Early model Audion Sealmaster impulse bag sealer. Manufactured staring in the 1950s with a classic hammertone green finish. Impulse sealing used for safety and quality of seals. Features a 12" long seal bar and 3/16" top and bottom heating elements. Cast metal floor standing frame with integrated mechanical foot pedal, allowing for hands-free operation.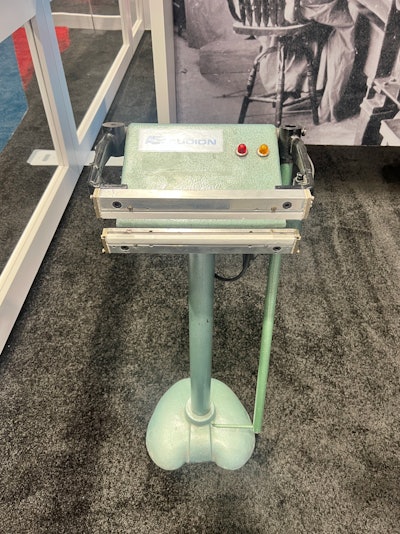 Polypack, Inc.
In 1968, Alain Cerf designed the first bucket conveyor shrink wrap machine to group and bundle unstable products. Since then, Polypack has continued to evolve the concept of bucket shrink wrapping machines to serve a variety of industries including: food, industrial goods, and pharmaceuticals. To date, Polypack has built over 1,000 bucket-style shrink wrap machines based upon Alain Cerf's original concept. To view the newest generation of shrink wrap machines, visit Polypack in Booth S-2147.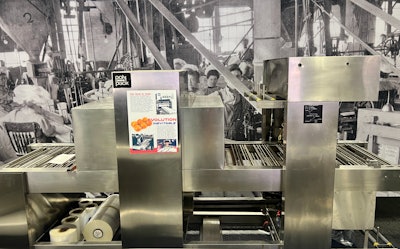 NJM, a ProMach Product Brand
The NJM Pony Label Rite® labeler represented NJM's inroad into the pharmaceutical industry as it applied a microfine coat of adhesive to the labels without glue oozing out from the sides of the label.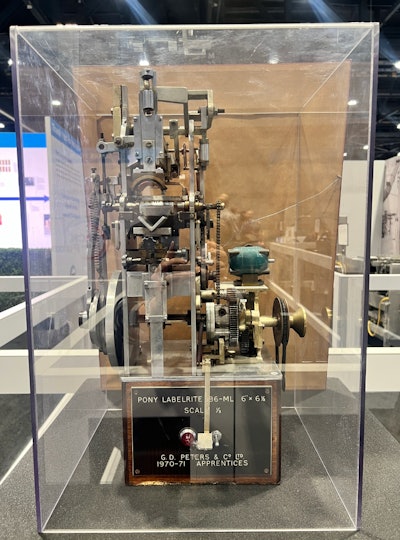 All-Fill
This is an original auger filler from 1969. The vertical auger filler was and still remains to this day as the most option for metering of dry powders and particulates.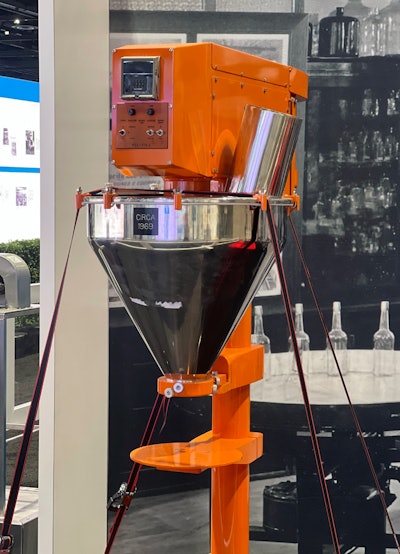 Columbia/Okura LLC
This robot, Model 0, was the very first robot ever sold by Columbia/Okura, purchased by Glanbia Nutritionals.
The system lifted 280,000 pounds per day-18,200,000 pounds a year. This means it would have lifted over two Titanic's which weighed 117,174,400 pounds. Glanbia needed a machine that could handle that, so they replaced their Model O with a new ai1800 this past year.
It was hard for them to say goodbye to Bob, the name they gave their Model O, but it was time for an upgrade after 20 years.