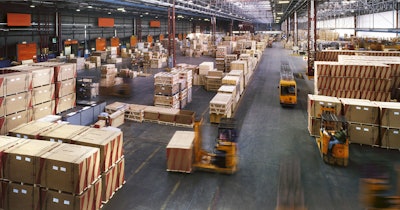 The needs of CPGs and the machinery required from OEMs to churn out goods were already experiencing a sea of change before COVID-19 completely turned supply and demand on its head. To keep up with these changes, many CPGs employed more contract manufacturers and packagers (CM&Ps) to stay ahead of the evolving whims of consumers seeking convenience, variety, and more eco-friendly items.
"[CM&P] business has grown drastically at an average growth rate of 10.2% over the last five years. We have segments growing much faster than that, but overall, everybody's experiencing a very high growth rate," says Ron Puvak, executive director of The Association for Contract Packagers & Manufacturers (CPA).
Some of that is attributable to COVID-19, like in food and beverage, which are traditionally the most significant segments of CM&Ps. Still, the numbers indicate that the spike remained once CM&Ps met the immediate need.
"CM&Ps haven't lost that business," Puvak says. "There has been a conversion [by CPGs] away from doing it in-house, or with dedicated lines, to moving it out to contract facilities."
Another reason Puvak projects this growth to continue—particularly in food and beverage—is where once it was common for CM&Ps to have short-term contracts of six months or less, many are now signing longer-term agreements. Others are turning to CM&Ps as risk management against future supply chain issues. Rather than dedicate complete in-house lines, CPGs and processors can be more flexible and put the capital investment in the hands of the CM&Ps.
To understand these new business dynamics, PMMI Business Intelligence surveyed PMMI members on the current state of machinery sales to the CoMan/CoPack market to determine what areas are experiencing the most growth and if the growth is here to stay.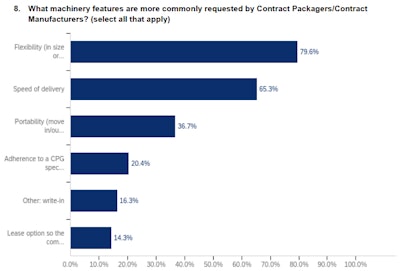 Food and beverage dominate the largest markets for equipment sold by responding OEMs with beverages, including alcohol (17%) as the largest market, proteins (11%), and confectionery (9%), joining medical devices (13%) in the top four. Nutraceuticals and supplements are the most popular market among respondents, with over half (53%) selling into that sector, followed by baked goods and confectionery at 41% each, beverages including alcohol and over-the-counter pharmaceuticals rounding out the top five, each at 39.3%.
When PMMI asked OEMs about the automation or technology needs CM&Ps are asking for, the most popular solutions are integrated lines which would align with Puvak's belief that some CPGs are moving entire processes to CM&Ps.
Where single pieces of machinery are needed, conveying, feeding, and handling equipment (34%), bagging, pouching, and wrapping equipment (32%), and cartoners/casepackers (31%) were sold the most to CM&Ps. Puvak indicates that these numbers are typical as end of line equipment traditionally dominates CM&P equipment purchases. He adds, however, that many CM&Ps are seeing opportunities to address labor issues via machinery purchases.
Variety packs, for example, are something that CM&Ps might have done previously with manual labor, but as robotics become more affordable and the strain on the labor force continues, he has seen an increase in incorporating OEM solutions to replace these repetitive functions.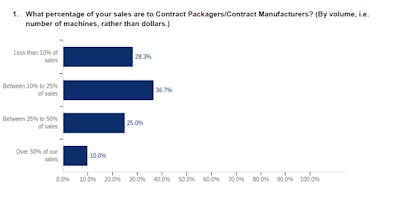 According to Puvak, CM&Ps are looking for flexibility and asking themselves: "Can I purchase something that I can use a variety of ways and for a variety of products?"
In addition to flexibility, PMMI's survey asked OEMs to note some specific demands and needs that CM&Ps are requesting when they purchase machines, and the following were the most common:
Quick changeovers
Predictive maintenance and production monitoring
Versatility for different package formats
Lines need to be built around new labeling requirements
Easy-to-operate machinery
Turnkey systems for secondary packaging
Sophisticated vision systems and robotics
Process automation
For more in-depth findings and to read verbatim responses of OEMs, PMMI members can download the survey results here: oemgo.to/oemcmpsurvey