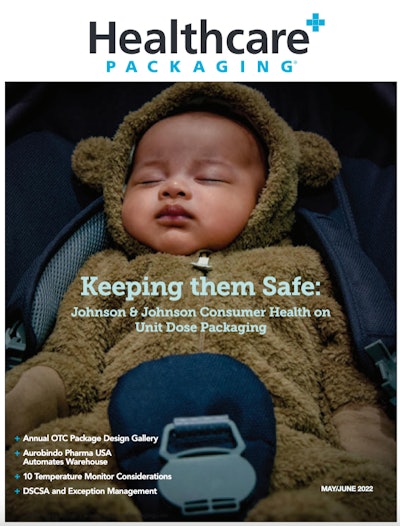 Four busloads of kids. That's the approximate number of children in the U.S. who come into emergency departments every day due to accidental unsupervised medication ingestions. As Dr. Ed Kuffner, Chief Medical Officer at Johnson & Johnson Consumer Health, explains in our Q&A, he's seen first-hand the heartbreak of treating these preventable illnesses in children.
Unit dose packaging has an important role to play in delivering medication safely to adults, while preventing access among children. Dr. Kuffner discusses a new technology from Swiss IDEEWISS AG, a unique folding blister package design that won their recent QuickFire Challenge called Packlock.
Next in package design, for a real-world look at what's on shelves today, check out our annual OTC package design gallery (Part 1 and Part 2). Packages had a bit more "flash" than in previous years, with metallic shrink sleeves, eye-catching foil accents, and an aluminum bottle for antacid tablets touting recyclability.
On the logistics side, we cover a warehouse automation case study which allowed Aurobindo Pharma USA to build "up" more than "out" in their New Jersey distribution hub. We also raise some important questions about how quarantined product will be processed under DSCSA traceability mandates (DSCSA and the Importance of Exception Management).
In cannabis packaging news, Anne Marie Mohan shares two packaging stories. Brand owner STIIIZY redesigned its vape pod packaging with 25% less material while remaining child-resistant. Next, live-rosin cannabis maker äkta selected a paper tube package for its vape cartridges and concentrates for its sustainability and approachable design.
---
---