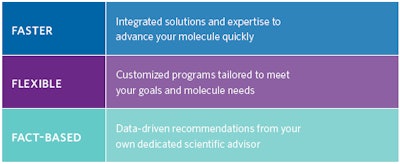 Catalent, a provider of advanced delivery technologies, development, and manufacturing systems for drugs, biologics, cell and gene therapies, and consumer health products, announces the launch of its OptiDose Design Solution, at the Controlled Release Society (CRS) annual meeting, which took place virtually from July 25 - 29, 2021.
Catalent's OptiDose Design Solution, led by Catalent's scientific advisors, uses a design approach that combines data-driven scientific tools with Catalent's development expertise. Integrating pharmaceutics, and dose form design target patient characteristics, OptiDose Design Solution is meant to help craft the ideal dose form for stakeholders and optimize the potential of a molecule, says the company.
"Taking patient needs and market realities into consideration earlier in the drug development process, along with critical CMC and DMPK parameters, is vital for creating a successful treatment for patients, innovators and health care professionals alike," says Julien Meissonnier, chief scientific officer at Catalent. He continues, "The OptiDose Design platform looks to evaluate all these considerations and provide options for final dose form decisions with an optimal combination of patient acceptance and adherence, differentiation versus any standard of care, manufacturability, and cost."
At the CRS meeting, Lisa Caralli, director of science and technology at Catalent, discussed the methodology of the OptiDose Design Solution, including how key product and patient factors are evaluated. Ms. Caralli's presentation, titled "Strategies to Optimize the Dose Design Process to Create Better Treatments", used case studies to demonstrate how the correct guidance, at the optimum time, can help drug developers create better treatments.
Ms. Caralli has over 27 years of industry experience, and in her role at Catalent, works with pharmaceutical companies to identify appropriate development pathways for early development drug candidates. She has previously held roles at Ionis Pharmaceuticals and Amylin Pharmaceuticals and began her career at the Immune Response Corporation. Ms. Caralli holds a bachelor's degree in biochemistry from the University of California at Davis, California.
Companies in this article