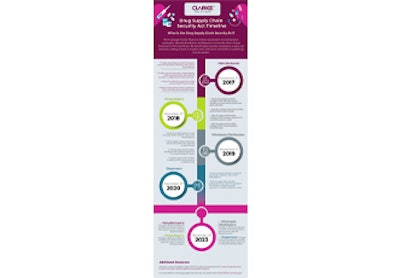 The Drug Supply Chain Security Act (DSCSA) will come fully into force in 2023, requiring an electronic, interoperable track-and-trace system that will monitor the distribution of drugs in the U.S. to prevent counterfeit, contaminated and diverted drugs.
Many pharmaceutical companies, contract manufacturing organizations, and contract packagers relaxed when a one-year postponement was announced last year, but now the deadline is real. The first due date for timely serialization compliance is imminent: November 26, 2018. DSCSA mandates printing unique product identification codes on all Rx units of sale and homogenous cases distributed domestically. (The attached DSCSA Drug Supply Chain Timeline infographic details the steps of the process.)
Clarke Solutions offers subject-matter experts that can offer comprehensive serialization and traceability support from planning to final implementation, partnering with companies to provide a complete, robust solution to meet the DSCSA requirements well before the November deadline.
Companies in this article