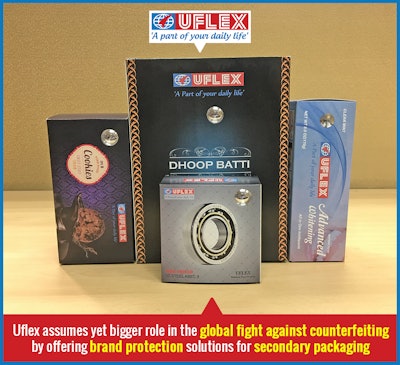 A multinational flexible packaging materials company in India, Uflex Ltd. provides contemporary and technologically advanced anti-counterfeiting and brand protection offerings. This market is pegged globally at over $US461 Billion (as estimated by the OECD), Uflex has assumed a larger responsibility of enhancing the brand security of its clients by ensuring that the secondary packaging that houses the primary packs is as much insulated from the menace of counterfeiting.
Uflex now possesses the capabilities of plugging the same anti-counterfeiting features on unprinted paperboard (i.e. condiment for secondary packaging) and thereafter supplying it to the associated convertors. Much like the primary flexible packaging, the secondary packaging also has a well-defined supply chain. We compliment both the elements, i.e. primary and secondary packaging to offer protection against counterfeiting. Primary packaging cannot be protected by keeping the secondary packaging alienated.
The company pre-applies the anti-counterfeiting feature on to the unprinted board/ raw material of the secondary packaging, which in turn is processed by the board convertors. The anti-counterfeiting features on the board are identical in size, shape and character as those on the primary packaging to complete the brand protection loop, making it impregnable.
Board stock is put it on the company's digital imaging system to create 3D surface enhancement on the board through hot foil stamping process on a reel to reel format. The digital imager does this with perfect registration with the artwork, thus enabling flexibility of placement of the anti-counterfeiting feature anywhere on the board as per the design mandated by the brand.
The anti-counterfeiting feature applied on the board is sheeted to provide registration accuracy to the board convertor in order to register with print. The image enhancement technology on the board ensures that the anti-counterfeiting feature matches with that on the primary flexible packaging.
Companies in this article