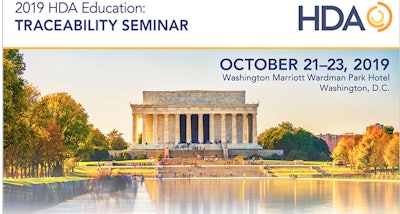 HDA's 2019 Traceability Seminar will be held at the Marriott Wardman Park in Washington, D.C., Oct. 21 to 23. To address how implementation of Drug Supply Chain Security Act (DSCSA) is continuing to transform the pharmaceutical supply chain, this year's seminar will provide a forum for stakeholders to prepare for milestones, discuss common challenges, and learn about what others are anticipating for the 2023 deadline.

Topics will include:
An update from FDA;
Preparation, challenges, and progress related to 2019 saleable returns verification;
Dispenser requirements and current approaches to compliance;
Supply chain viewpoints on 2023; and more.
The seminar will bring together traceability experts andsolutionproviders to discuss the industry's progress, various operational challenges, and how others have overcome implementation issues, as well as critical solutions for supply chain and compliance needs.

Register here. Confirmed speakers and additional agenda details will be announced this summer.Updates will be postedon HDA's Twitter profile @HDAconnect.
Companies in this article