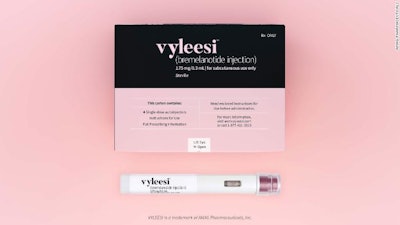 Hypoactive sexual desire disorder (HSDD) is a condition characterized by a reduced sexual desire that isn't linked to a specific cause. A recent CNN article, noted the recent approval of a new drug that treats HSDD in premenopausal women. The drug, manufactured by AMAG Pharmaceuticals, is called Vyleesi (scientific name bremelanotide), though it's being referred to as the new "female Viagra." It comes in the form of a pre-packaged injection that's administered before sex.
Critics are saying the data sounds lackluster showing that in a pair of 24-week trials conducted on roughly 1,200 women with HSDD, only about a quarter of the women taking Vyleesi reported a noticeable increased sexual desire. The most common side effects associated with the drug are nausea, headache, and flushing but women who experienced the effects kept using the drug as "the benefit outweighed the tolerability issue," according to a doctor involved with the clinical trials.
This isn't the first drug approved for low libido in women. Sprout Pharmaceuticals' Addyi was approved in 2015, but hasn't seen much success potentially due to the fact that doctors have to be specially certified to prescribe it, and it can't be taken with alcohol.