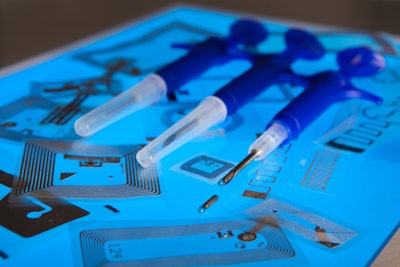 Radio-Frequency Identification (RFID) is projected as the highest-growing technology in the anti-counterfeit packaging market through 2023, according to a new market research report from Absolute Reports.
Says the report, the "RFID segment is projected to grow at a highest rate in the forecast period due to its ability to read and capture information stored on the tag attached to the product."
Coding and printing technology, holograms, security labels and package design are other technologies evaluated in the 193-page report published in February 2018. By usage or feature, the report discusses track-and-trace technologies, tamper-evidence, overt /covert featuresand forensic markers.
Beyond the pharmaceutical and healthcare end-use sector, the report also analyzes food and bevrages, industrial and automotive, consumer electronics and cosmetics and personal care markets.
Overall, the report forecasts anti-counterfeit packaging will grow from $109.35 billion in 2017 to $230.70 billion by 2023, experiencing an estimated 13.25% Compound Annual Growth Rate.